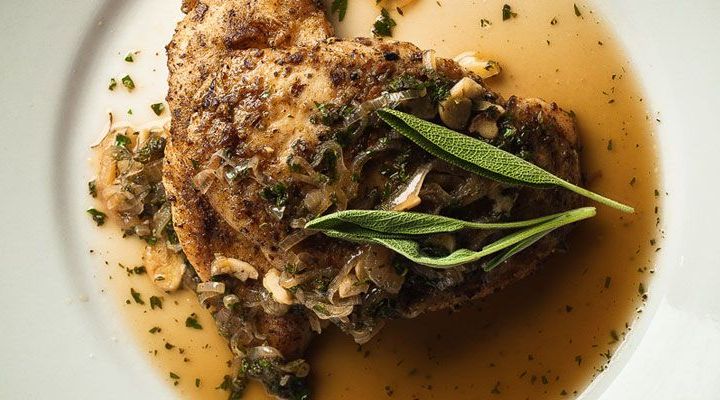 Latin Spice-Rubbed Chicken with Chimichurri Sauce Recipe
Ingredients
Brine:
2 quarts water
1/2 cup kosher salt
1/2 cup sugar
1 bay leaf
2 garlic cloves, smashed
1 teaspoon black peppercorn, coarsely smashed
8 6-ounce boneless chicken half breasts
Chicken Spice Rub:
2 tablespoons cumin seeds
2 teaspoons black peppercorns
1 Tablespoon coriander
1 1/2 Tablespoons red chili powder
1 Tablespoon kosher salt
1/2 teaspoon cinnamon
1/2 teaspoon hot red pepper flakes
Chimichurri Sauce:
2 large cloves garlic, finely chopped
1 cup fresh cilantro, coarsely chopped
2 cups fresh flat-leaf parsley, coarsely chopped
2 Tablespoons lime juice
1/2 cup olive oil
1 teaspoon kosher salt
Methods/Steps
Brine: Mix water, salt, sugar, bay leaf, garlic and black peppercorns. Immerse the chicken in the brine and refrigerate for 1/2 hour-1 hour. Remove from the brine and pat dry.

Prepare Spice Mixture: Measure out the cumin, peppercorns and coriander. Grind them together to a powder in a spice grinder. Pour ground spices into a bowl and add the chili powder, salt, cinnamon and red pepper flakes. Stir to combine with a fork.
Prepare Chicken: Trim the chicken of any fat. Rub the chicken with the spice mixture. (Wash your hands thoroughly right afterwards!) Preheat a grill to medium-high heat (or if cooking inside, a rigged stove-top grill). Add the chicken to a hot grill and cook it for about 3 minutes until a nice color forms (don't burn spice rub, light grill marks are ok). Transfer the chicken to a sheet pan. Finish cooking in the oven until done, about 10-15 minutes. (150°F when tested with a meat thermometer). Adjust seasoning with additional salt and pepper and serve immediately.
Chimichurri Sauce: Put the chopped garlic, parsley and cilantro in a medium non-reactive bowl. Add the lime juice, oil, and 1 teaspoon salt. Stir to combine. Serve the chicken with a tablespoon of the sauce. Adjust seasoning if necessary just before serving.
Recipe created by Parties That Cook®
Serves/Makes
Serves 8