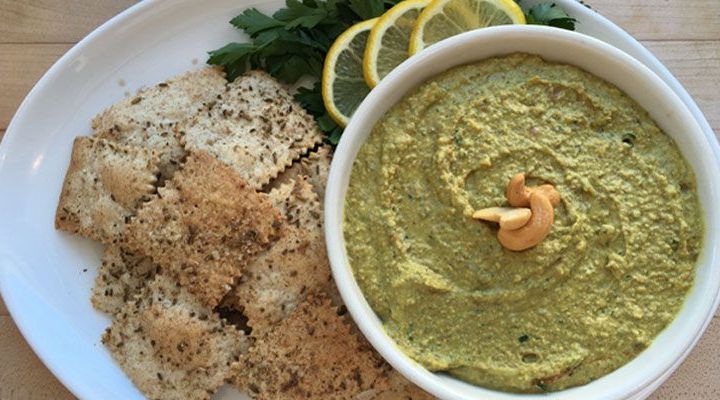 Lentil-Cashew Hummus with Handmade Seeded Crackers Recipe
Ingredients
Seed Mixture:
1 Tablespoon caraway seeds
1 Tablespoon fennel seeds
1 teaspoon flaky sea salt
Dough:
2 cups all-purpose flour + extra for rolling the dough
½ cup whole-wheat flour
1 teaspoon kosher salt
4 Tablespoons olive oil
½ cup water + extra for brushing the dough
Hummus:
1 cup cooked green lentils (chef has completed this step)
½ cup cashews, toasted
¼ cup lemon juice
1 teaspoon kosher salt
2 garlic cloves
½ teaspoon cumin seeds, toasted and ground
½ teaspoon turmeric
¼ teaspoon cayenne
2 Tablespoons olive oil
2 teaspoons parsley, chopped
Methods/Steps
Make Topping: Quickly pulse the seeds in a spice grinder until just cracked. Pour into a bowl and add the salt. Set aside.
Make Dough: Preheat the oven to 450°F. In a large bowl, whisk together the flour and salt. Add the olive oil and water and stir with a wooden spoon until a soft, crumbly ball of dough forms. Use your hands to press the dough against the sides of the bowl to gather all of the stray flour. Turn out onto work surface, shape into a disk and cut into thirds. Cover with a dry clean towel until ready to use.
Roll Dough: Take one piece of dough and press into a square shape. Keep the remaining dough covered until ready to use. Using a Silpat or parchment paper, roll the square of dough into a rectangle about the size and thickness of a sheet of paper then slide onto a sheet tray. Use a fork to prick holes all over the dough. Brush lightly with water, then evenly sprinkle some of the spice mixture over the top. Cut the dough into cracker shapes of your choice. (Example: 1" squares., long strips using a ravioli cutter, etc.) Repeat this process with remaining sections of dough.
Bake: Use an off-set spatula to transfer crackers to an unlined sheet pan. Bake until nicely browned, about 10-12 minutes, rotating halfway for even cooking.
Make the Hummus: In a blender or food processor, add the lentils, cashews, lemon juice, salt, garlic, cumin, turmeric, and cayenne. Blend well so it becomes nice and creamy, slowly drizzle in olive oil and continue blending. Once the hummus is creamy, plus in the parsley. Remove with a rubber spatula into serving bowl. Serve on a platter with the seeded crackers.
Recipe created by Parties That Cook®
Serves/Makes
Serves 12