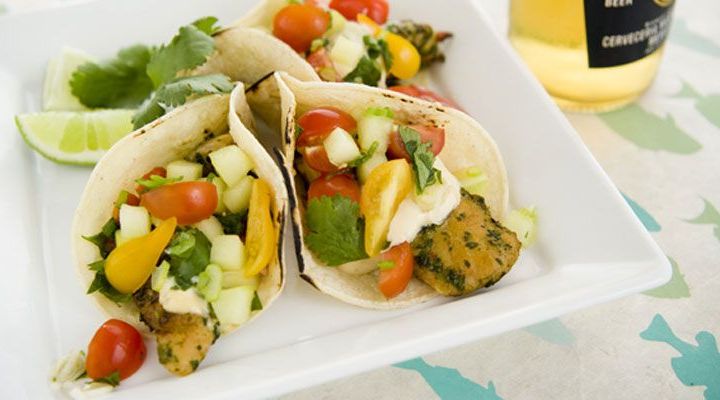 Fish Tacos with Tomato Salad and Chipotle-Lime Crema Recipe
Ingredients
Fish Marinade:
3/4 cup cilantro leaves
1 1/2 teaspoons paprika
3/4 teaspoon cumin seeds, toasted and ground
1 small red chili, seeded
2 limes, zested
1/3 cup extra virgin olive oil
1 teaspoon kosher salt
1 1/2 pounds tilapia
Toothpicks for serving
Tomato Salad:
20 cherry tomatoes, quartered
1/2 English cucumber, peeled, sliced in half, seeded and diced into 1/4-inch cubes
2 green onions, sliced
2 Tablespoons cilantro chopped, plus some whole leaves for garnish
1/2 teaspoon lime juice
1/2 teaspoon kosher salt
1/2 teaspoon sugar
Chipotle-Lime Crema:
1 cup sour cream
1/2 chipotle in adobo, minced plus 1/2 teaspoon adobo sauce
1 large clove garlic, minced
2 Tablespoons lime juice
1/4 teaspoon ground cinnamon
1 teaspoon kosher salt
2 Tablespoons cilantro, finely chopped
2 limes, cut into wedges
Tortillas:
24 small 4-inch corn tortillas
Methods/Steps
Marinade: Put cilantro, paprika, cumin, chili, lime zest, olive oil and salt in a blender and process to a paste. If using the food processor, add an extra ¼ cup of oil. Toss fish with the paste and let marinate for 20 minutes.

Cook Fish: Heat a non-stick frying pan over medium heat until hot. Add fish in a single layer and cook 2 minutes. Carefully turn fish over and cook for 1 minute, or until the fish is opaque and just cooked.

Cut Fish: Transfer cooked fish to a cutting board and cut into strips. It's ok if the fish breaks up a bit.

Tomato Salad: Cut up and mix all the ingredients together in a bowl and set aside.

Tortillas: Using tongs, grill each tortilla over a gas burner for 15 seconds a side. Transfer to a plate; cover with foil to keep warm. Alternatively, wrap all tortillas in foil and warm in a 350ºF oven for 10 minutes.

Make Crema: Place all ingredients into a small bowl and mix well.

Assemble Tacos: Place a piece of fish on each tortilla. Put a large dollop of the crema on the fish then top with a spoonful of tomato salad. Garnish with some cilantro, roll into a cone and secure with a toothpick. Serve on a platter with lime wedges.
Recipe created by Parties That Cook®
Serves/Makes
Makes 24 little tacos