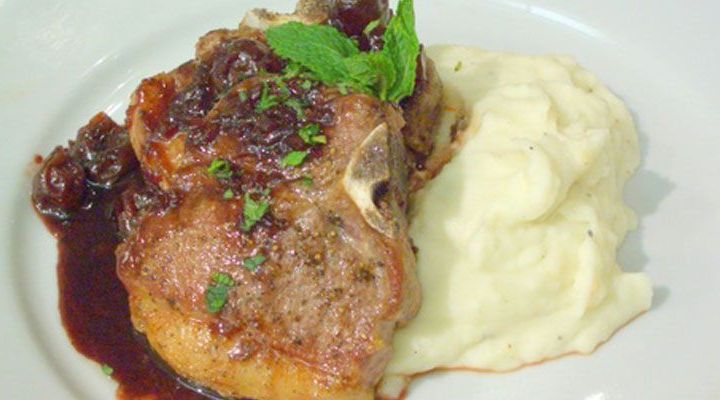 Little Lamb Porterhouse Steaks with Pistachio-Mint Tapenade Recipe
Ingredients
Lamb:
1 Tablespoon dried lavender flowers
2 Tablespoons kosher salt
2-3 Tablespoons olive oil
16 (3) ounce lamb Porterhouse steaks, about 1 inch thick (for vegetarians, substitute eggplant slices)
Ridged Grill Pan (s)
Pistachio-Mint Tapenade:
2 cloves garlic, peeled
Zest of one lemon
1/2 cup mint leaves, finely chopped
1/2 cup parsley leaves, finely chopped
1/2 cup shelled pistachios, coarsely chopped
1/2 teaspoon kosher salt
1/2 cup extra virgin olive oil
Parsley or mint sprigs for garnish
Methods/Steps
Make Lavender Salt: In a clean spice grinder, pulse lavender flowers until finely ground. Transfer the ground flowers to a small bowl and toss with the kosher salt.
Sear Meat: Preheat oven to 425°F. Brush lamb with olive oil. Sprinkle with half of the lavender salt (save some salt to garnish with later). Heat a ridged grill pan on high heat. Working in batches, sear the steaks until golden brown grill marks appear, about 1 per side. Transfer to a sheet pan. The steaks will still be fairly rare.
Roast Lamb: Place lamb into the oven and roast for 5 minutes or until a meat thermometer inserted all the way into the thickest part of the meat reads 135°F (for medium rare). Remove from the oven.
Make Tapenade: Put the garlic, lemon zest, mint, parsley, pistachios and salt in the bowl of a food processor. Pulse until coarsely chopped. With the blade running, add the olive oil and pulse until blended about 15 seconds (Careful not to over blend!). Remove and set aside.
Serve: Serve 2 steaks per person, garnished with a little lavender salt, a dollop of pesto and a sprig of parsley or mint.
Recipe created by Parties That Cook®
Serves/Makes
Serves 8