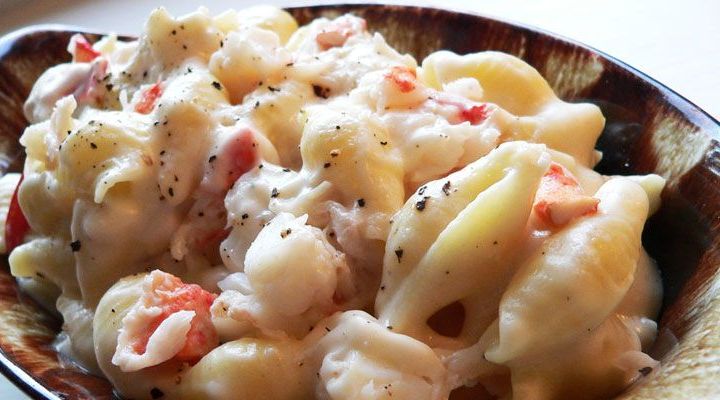 Lobster and Crab Macaroni and Cheese Recipe
Ingredients
Mac 'n' Cheese:
1 six-ounce lobster tail with shell on, peeled and shell reserved
1 Tablespoon olive oil
1 cup chopped onion
3/4 cup chopped peeled carrots
3/4 cup chopped celery
2 garlic cloves, peeled, flattened
1 Turkish bay leaf
1 Tablespoon tomato paste
1/4 cup Cognac or brandy
3 1/2 cups water
Cream Sauce:
2 cups whipping cream, reduced to 1 cup
4 Tablespoons butter
2 Tablespoons all purpose flour
1 1/2 cups grated Fontina cheese (about 6 ounces)
1 1/2 teaspoons lemon zest
1 1/2 teaspoons kosher salt
1 pound shell or penne pasta
1 pound fresh crabmeat, picked over 2 Tablespoons chopped fresh chives
Methods/Steps
Lobster: Peel lobster tail and break the tail into pieces and reserve. Cut lobster meat into small pieces; transfer to a bowl. Refrigerate.
Make Stock: Heat 1 Tablespoon oil in heavy large skillet over medium-high heat. Add lobster shells, and saute for 2 minutes. Add onion, carrots, celery, garlic, and bay leaf: saute 3-5 minutes. Add tomato paste; stir 1 minute. Remove from heat; stir in Cognac/brandy. Add 3 1/2 cups water; bring to boil. Reduce heat, cover, and simmer 10 minutes. Strain stock into bowl, pressing on solids to extract liquid; discard solids. Set stock aside.
Make Sauce: Pour cream into a saucepan and reduce by half over medium heat. Meanwhile, melt butter in large saucepan over medium heat. Add flour; stir 2 minutes. Add stock and reduced cream, simmer until sauce is reduced to 2 1/2 - 3 cups, about 5 minutes. Remove from heat and add cheese, lemon zest, and salt; stir until smooth.
Make Pasta: Meanwhile, cook pasta in large pot of boiling salted water until just tender but firm to bite. Drain. Stir in lobster, sauce, and crab and continue to stir over medium-low heat until heated through, about 2 minutes. Serve topped with chives.
Recipe created by Parties That Cook®
Serves/Makes
Serves 12 first course servings or 8 main course servings