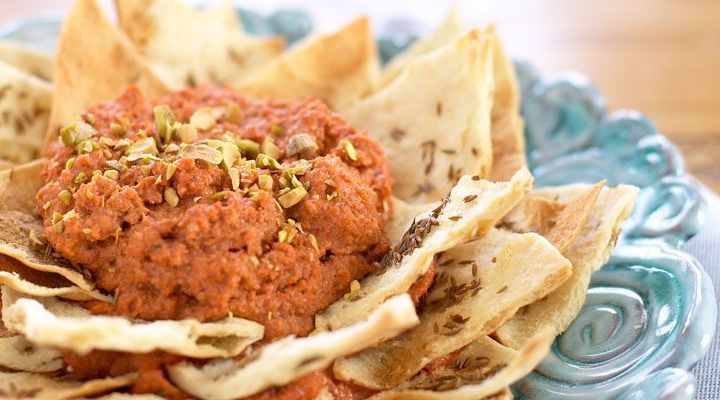 Mediterranean: Roasted Eggplant and Pomegranate Molasses Dip with Cumin Pita Chips Recipe
Ingredients
Roasted Garlic:
2 small heads garlic
1 Tablespoon extra-virgin olive oil
Eggplant Puree:
3 Japanese eggplants (5 ounces each)
1 red bell pepper
1/2 teaspoon cumin seed
1 Tablespoon capers, rinsed
4 Kalamata olives, pitted
2 Tablespoon cilantro leaves
2 Tablespoon mint leaves
2 Tablespoons pomegranate molasses (Carlo brand preferred)
1 Tablespoon lemon juice
1 1/4 teaspoons kosher salt
1/4 teaspoon black pepper, freshly ground
2 Tablespoons extra-virgin olive oil
Cumin Pita Chips:
1/4 cup extra-virgin olive oil
3 Tablespoons kosher salt
2 Tablespoons pepper
2 Tablespoons cumin seeds
6 pieces of pita bread, 6-8 inches in diameter
Methods/Steps
Preheat oven to 450°F.
Roast Garlic: Cut off the top (stem end) of both heads of garlic. Place the garlic bulbs in a piece of foil and drizzle with the olive oil. Wrap tightly and roast in a preheated oven until completely soft and caramelized, about 30 minutes. Let cool slightly then squeeze out the cloves into a small bowl. Decrease the oven temperature to 350ºF.
Prepare Eggplant and Bell Pepper: Roast or grill the eggplant and pepper over a flame until blackened. Put them into a bowl, cover with plastic wrap (or a paper bag, fold it to seal loosely) and let them steam for 5-10 minutes. Remove and peel off the charred skin. Remove the seeds and stem from the bell pepper and the top from the eggplant.
Make Pita Chips: Cut around outside of pitas with a knife or kitchen scissors. Split the pita into two round halves. Cut each half into 4 - 5 triangles. Lay the triangles inner side up on a baking sheet. Brush each with olive oil and sprinkle generously with salt and pepper and cumin seeds. Toast until golden and lightly crisp about 10-15 minutes.
Toast Cumin: Put the cumin seeds in a small skillet over medium-high heat. Toast, shaking occasionally until the seeds pop, become fragrant and brown slightly (about 2 minutes).
Make the Puree: In a food processor, blend the eggplant, peppers, roasted garlic, capers, olives, cilantro, mint, toasted cumin, pomegranate molasses, lemon juice, olive oil, salt and pepper until blended and smooth.
Serve: Serve immediately with the pita chips.
Recipe created by Parties That Cook®
Serves/Makes
Serves 24