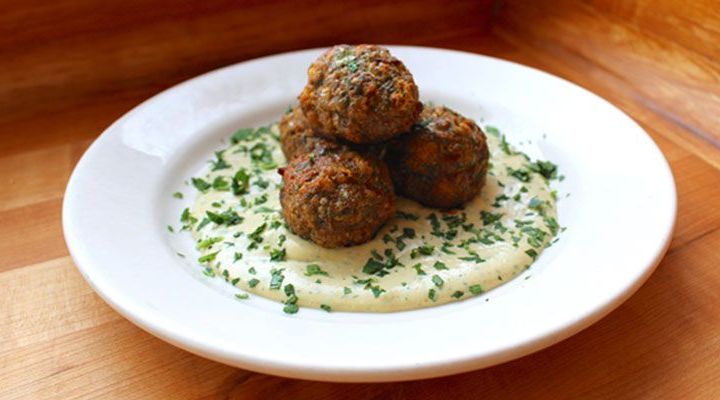 Merguez-Spiced Lamb Meatballs with Tahini and Lemon Glaze Recipe
Ingredients
Merguez Spice:
¼ teaspoon ground nutmeg
2 teaspoons ground dried ginger
2 teaspoons turmeric
1 Tablespoon paprika
½ teaspoon cayenne
½ teaspoon ground cloves
½ teaspoon ground coriander
1 teaspoon ground cumin
Lamb Meatballs:
1 cup breadcrumbs
2 cups chicken stock
2 pounds ground lamb
2 eggs, lightly beaten
1 Tablespoon kosher salt
1 teaspoon black pepper
4 cloves garlic, minced
½ bunch parsley, chopped
½ bunch cilantro, chopped
½ bunch scallions, minced
Olive oil
Tahini and Lemon Glaze:
1 cup tahini
6 cloves garlic
½ cup lemon juice
1 teaspoon kosher salt
¼ teaspoon cayenne
1 bunch parsley, chopped
Methods/Steps
Make the Merguez Spice: In a small mixing bowl, add all the spices. Mix together and set aside.
Making the Meatballs: Preheat the oven to 400°F. Brush sheet pans with oil and set aside. In a mixing bowl, add the bread crumbs and chicken stock. Let that sit for 5 minutes, squeeze out any remaining liquid. Using another, larger mixing bowl, add the soaked bread crumbs, lamb, Merguez spice mixture, eggs, salt, pepper and garlic. Mix well. Add the parsley, cilantro and scallions. Using a medium sized, ice cream scoop for shaping the meatballs, scoop and portion all the meatball mixture and put on the sheet pan. Bake for 20-25 minutes, or until cooked through.
Make the Sauce: In a Cuisinart, add the tahini, garlic, half the parsley, lemon juice, salt and cayenne. Blend well, adding ¼ cup water to loosen. Spread tahini glaze on a plate, top with meatballs. Serve individually on plates or on platters, garnish with the rest of the parsley. Serve.
Recipe created by Parties That Cook®
Serves/Makes
Serves 8