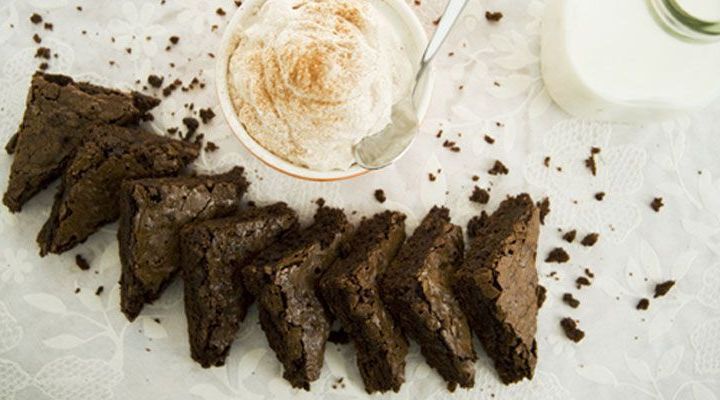 Mexican Chocolate Fudge Brownies with Cinnamon Whipped Cream Recipe
Ingredients
Cake Pans:
Parchment paper
2 Tablespoons melted butter (for buttering pan)
Brownies:
6 ounces bittersweet chocolate, chopped
2 tablets Mexican chocolate (Ibarra brand in yellow box), chopped
2 cups brown sugar
2/3 cup granulated white sugar
12 ounces butter
4 eggs
2 teaspoons vanilla extract
1/2 teaspoon kosher salt
1 teaspoon ground cinnamon
2 1/2 cups all-purpose flour
Cinnamon Whipped Cream:
1 cup heavy cream
1 Tablespoon powdered sugar
1/2 teaspoon vanilla
1/4 teaspoon cinnamon
Methods/Steps
Preheat oven to 375ºF.
Prepare Pans: Cut out a parchment square to exactly fit the bottom of the pan. Using a pastry brush, butter the 12x17 sheet pan. Place in the parchment and butter it as well.
Melt Chocolates: In a bowl over a double boiler, melt the chocolates with the sugars and butter. Remove from heat and let cool slightly.
Make Brownies: In a small bowl, combine the eggs with the vanilla, salt and cinnamon. Whisk the egg mixture into the slightly cooled chocolate. Then fold in the flour until just combined (do not overmix or the brownies will get tough). Pour into the prepared pan and bake for 15-20 minutes, or until a skewer comes out clean. Let cool for about 10 minutes, then remove from pan and cut into 40 one-inch squares.
Prepare Cinnamon Whipped Cream: Pour the cream, sugar, vanilla and cinnamon into a bowl. Beat cream until soft peaks form. (Do not overmix or it will form butter!)
Serve: Serve brownies on a platter with the whipped cream in a bowl served on the side.
Recipe created by Parties That Cook®
Serves/Makes
Makes 40 brownies