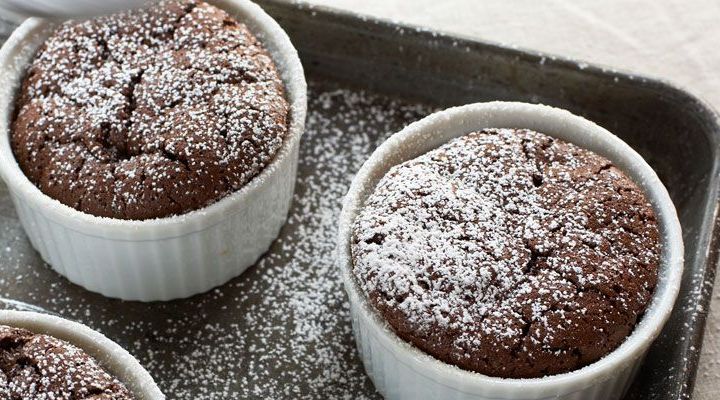 Mexican Chocolate Souffles with Soft Cinnamon Whipped Cream Recipe
Ingredients
Ramekins:
Non-stick cooking spray
3 Tablespoons granulated sugar
Soufflé:
5 Ibarra Mexican chocolate disks totaling 15 ½ ounces, chopped
½ cup (1 stick) unsalted butter
8 large eggs, separated, room temperature
½ teaspoon vanilla
¼ teaspoon kosher salt
Soft Cinnamon Whipped Cream:
1 cup heavy cream
1 Tablespoon powdered sugar
½ teaspoon vanilla
¼ teaspoon cinnamon
Methods/Steps
Preheat the oven to 350ºF.
Prepare Pans: Preheat 350°F. Spray ramekins and sprinkle with granulated sugar. Pour out excess sugar and put prepared ramekins on a sheet pan. Set aside.
Melt Chocolate: Melt Mexican chocolate and butter in heavy medium saucepan over low heat, stirring constantly until melted (mixture will be grainy).
Soufflé Base: Whisk egg yolks in large bowl to blend. Gradually whisk in melted chocolate mixture. Add vanilla and salt. Set aside.
Beat Egg Whites: Using electric mixer, beat egg whites in large bowl until stiff but not dry. Fold ¼ of egg whites into warm chocolate mixture to lighten. Fold in remaining egg whites. Divide soufflé mixture among ramekins.
Bake Soufflés: Bake until tops have risen about ½ inch above the rim of dish and appear dry and centers are softly set, about 18 minutes.

Prepare Cinnamon Whipped Cream: Pour the cream, sugar, vanilla and cinnamon into a bowl. Whip cream with a mixer until soft peaks form.
Serve: Serve soufflés with whipped cream.
Recipe created by Parties That Cook®
Serves/Makes
Makes 12