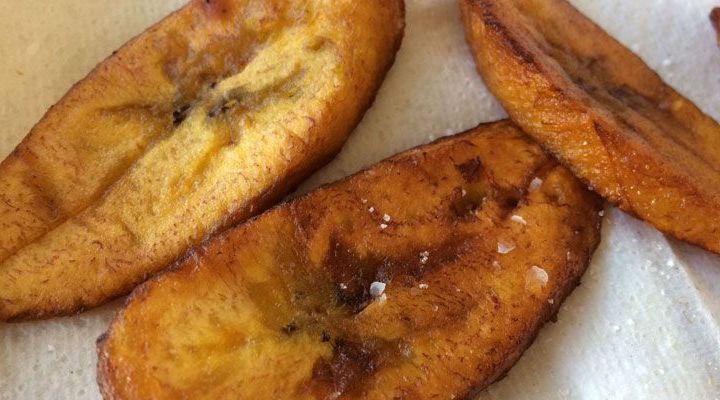 Mexican White Rice With Sweet Plaintains Recipe
Ingredients
Rice:
1 Tablespoon canola oil
3 cups white rice, preferably medium-grain, washed well and drained
1 large onion, chopped into small dice
4 garlic cloves, minced
1/2 bunch cilantro, chopped for garnish
3 cups water
1 Tablespoon kosher salt
Sweet Plaintains:
2 large plantains, soft, black, and ripe, peeled and cut into 1/2-inch cubes
1 1/2 cups canola oil
Methods/Steps
Fry Rice: Over medium heat, in a heavy bottom Dutch oven or large saucepan, add the canola oil. Add the rice and toss in the oil, stirring constantly, until the rice starts to turn from translucent to milky white (but not begun to brown), about 5 minutes.
Chop Vegetables: Chop the onion into small dice and add it to the toasting rice. Mince the garlic and add that to the pan as well. Cook, stirring regularly, until onions are soft but not browned, about 5 minutes. Add the water and salt. Stir several times through all parts of the pan, making sure to scrape down any rice grains that are clinging to the sides above the liquid. Finely chop the cilantro and set it aside for garnishing the rice later.
Finish Cooking Rice: Cook on medium heat until the level of the liquid has reached the level of the rice, about 5 minutes, cover and turn heat to low. After 20 minutes uncover and test a grain of rice: if it's still a little chalky in the center and it's clear that all the liquid has been absorbed, drizzle about 1/4 cup of water over the rice, re-cover and cook for 5 to 10 minutes longer. If it is tender, turn the flame off and set aside. DO NOT STIR.
Dice Plaintains: Cut the top and bottom off of the plantains. Cut a slit along the entire length of the plantain and peel the skin away. The plantains will be soft, but gently cut the plantains into 1/2 inch cubes.
Fry Plaintains: In a medium sauté pan, heat the oil over medium to medium-high heat. When the oil is quite hot (but not smoking), add the plantains and fry, breaking apart any clumps until the plantains are a rich golden brown, about 5-10 minutes. Using a slotted spoon or wire skimmer, remove the plantain cubes to a paper towel lined sheet pan to drain.
Garnish Rice: Turn the pot of rice over into a large bowl. Carefully scrape all of the rice out of the pot with a large metal spoon, then fluff rice with a large fork. Gently mix plantains and chopped cilantro into rice with the large fork, so as not to break or mash the rice. Cover bowl with foil and place into oven until service.
Recipe created by Parties That Cook®
Serves/Makes
Serves 12