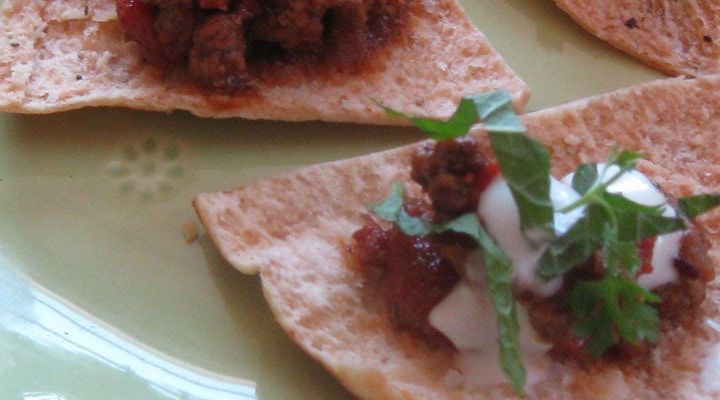 Middle East Nachos: Baharat Spiced Beef On Pita Chips with Tahini Sauce and Herbs Recipe
Ingredients
Baharat Spiced Beef:
1 Tablespoon paprika
1 1/2 teaspoon ground coriander
1 1/2 teaspoon ground turmeric
1 teaspoon ground cumin
1 teaspoon ground cinnamon
1 teaspoon ground cardamom
1/2 teaspoon ground caraway
1/2 teaspoon ground nutmeg
2 teaspoons kosher salt
1 teaspoon freshly ground black pepper
5 Tablespoons water
1 small onion, finely diced
1 garlic clove, minced
1 teaspoon ginger root, minced or juiced
4 Tablespoons cilantro, chopped
2 Tablespoons fresh mint, chopped
2 Tablespoons canola oil
1 lb. extra lean ground beef
1 can (14.5 oz.) diced tomatoes with the juice
1 lemon, juiced
Pita Chips:
5 pieces of white pita bread, 6-8 inches in diameter
1/2 cup extra-virgin olive oil
1 Tablespoon kosher salt
1 Tablespoon freshly ground black pepper
Garnish:
1/2 cup Greek yogurt
1/2 cup tahini
1 lemon, juiced
1/2 Tablespoon kosher salt
Methods/Steps
Preheat oven to 350ºF.
Make Spice Paste: Mix together the paprika, coriander, turmeric, black pepper, cumin, cinnamon, cardamom, caraway, and nutmeg with the water to make a paste and set aside.
Cut Aromatics: Finely dice the onion. Mince the garlic and the ginger and set all 3 three aside in a small bowl. Chop the cilantro and the mint and place into another bowl for garnishing the dish later on.
Cook Beef: Heat the oil in a large sauté pan over medium-high heat, add the onion, garlic, and ginger, lower heat to medium and sauté with a wooden spoon until the onions are starting to soften, about 8 minutes. Add the ground beef and break apart into finely ground pieces (like taco meat) with the wooden spoon. Cook until the meat is cooked through and nicely browned. Add the spice paste mixture and sauté 2-3 minutes more, until the spices are fragrant. Lower heat to medium and add the canned tomatoes with juice. simmer about 20 minutes, or until the liquid has evaporated and the tomatoes are well-softened. Add half of the chopped cilantro and chopped mint and turn off heat.
Make Pita Chips: Using scissors, cut off edges around the circumference of each pita. Split the pita into two round circles. Brush/spray the inner side of each circle with olive oil, sprinkle with salt and pepper. Stack the circles and cut them in half, then each half into thirds to yield 6 triangles from each round of pita. Lay triangles inner side up on a baking sheet. Toast until golden and lightly crisp (about 10 minutes).
Make Garnish and Assemble Nachos: Stir together yogurt, tahini, lemon and kosher salt. Lay the toasted pita chips out into a single layer. Top each chip with a tablespoon of the spiced beef. Drizzle each chip lightly with the tahini mixture. Sprinkle the chips with the remaining herbs. Transfer to a platter and serve immediately.
Recipe created by Parties That Cook®
Serves/Makes
Makes 60 Pieces