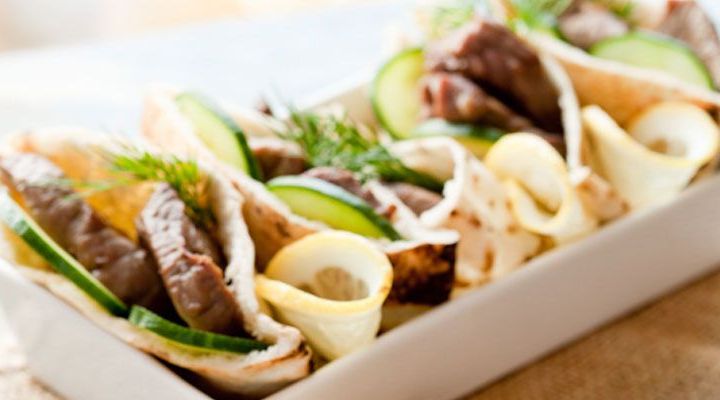 Mini Gyros Pita Pockets with Grilled Lamb and Tzatziki Sauce Recipe
Ingredients
Tzatziki Sauce:
1 cucumber, peeled, seeded, grated and drained (squeeze all of the water out)
2 cloves garlic, minced
1 teaspoon lemon zest
1/4 cup fresh dill, finely chopped
1 1/4 cups Greek yogurt
1 Tablespoon white-wine vinegar
2 Tablespoons extra virgin olive oil
1 1/2 teaspoons kosher salt
1/8 teaspoon black pepper, freshly ground

Lamb:
3 pounds leg of lamb, boneless
1/4 cup olive oil
1 Tablespoon kosher salt
1/4 teaspoon ground pepper
15 mini pitas (about 3 inches in diameter)
2 lemons, cut into wedges for garnish
Aluminum foil
Canola oil for grilling
Methods/Steps
Preheat oven to 300°F.

Grate Cucumber: Peel and seed the cucumber. Grate the cucumber then place into a colander with a pinch of salt. Let sit 15 minutes then squeeze out all of the excess water.

Prepare Aromatics: Mince the garlic and place into a medium bowl with the grated cucumber. Zest the lemon and chop the dill. Add to the bowl.

Finish Sauce: Add the yogurt, vinegar, olive oil, salt and pepper to the bowl of cucumber and aromatics. Mix everything well. Let the sauce sit for 10 minutes for flavors to blend. Transfer to a small serving bowl and garnish with a sprig of dill.
Prep Lamb: Trim lamb of excess fat and silver skin. Slice meat into 1-inch slices. Transfer lamb to a bowl and add the olive oil, salt and pepper. Mix well.

Grill Lamb: Heat a ridged grill pan over medium heat. Once grill is hot, brush with canola oil. Grill lamb slices on both sides until cooked through, about 3 minutes a side. Let lamb rest for a few minutes.

Prepare Pitas: While lamb is grilling, cut the pitas in half. Wrap pitas in foil and warm in the oven for 10 minutes.

Slice Lamb: Cut the slices of grilled lamb into thin strips and place into warm pita.

Serve: Arrange warm gyros on a platter with the bowl of tzatziki. Garnish with dill and lemon wedges.

Recipe created by Parties That Cook®
Serves/Makes
Makes 30