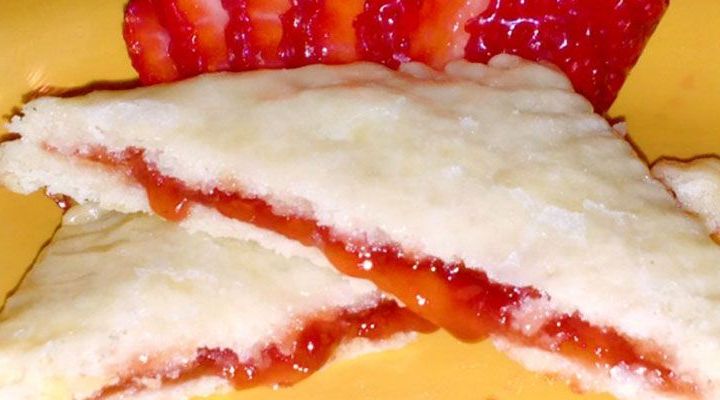 Mini Strawberry Pop-Tarts with Lemon Glaze Recipe
Ingredients
Pop-Tart Dough:
2 cups + 2 Tablespoons AP flour (plus more for rolling)
1 teaspoon kosher salt
2 1/2 Tablespoons sugar
1 cup (2 sticks) unsalted butter, cut into 1/2-inch cubes, chilled
1/4 cup ice water
Filling:
1 cup high-quality strawberry preserves (preferably homemade), can substitute raspberry or blueberry
Lemon Glaze:
3/4 cup powdered sugar
2 Tablespoons unsalted butter, melted
1 1/2 teaspoons water
1/2 teaspoon lemon juice
1/8 teaspoon vanilla extract
Pinch of kosher salt
Garnish:
Fresh berries
Powdered sugar
Methods/Steps
Make Dough: Pour flour, salt and sugar into the bowl of a food processor. Pulse to combine. Add butter and pulse for 5-10 seconds until butter is the size of peas. Pour in the ice water and pulse another 10 seconds until the dough starts coming together. Pour out onto a work surface, lightly dusted with flour. Divide dough in half and shape into 2 discs. Wrap in plastic. Chill at least 1 hour.
Roll and Cut Dough: Working with 1 disk at a time (keeping the other disc in the refrigerator), roll out dough on floured surface to about 1/8-inch thickness. Using a square cookie cutter, cut dough into 16 2-inch squares (or cut by hand).
Assemble Pop-Tarts: Line a large rimmed sheet pan with parchment paper. Arrange 8 squares, spaced 2 inches apart, on the sheet pan. Spoon a scant Tablespoon of preserves in the center of each square. Top preserves with another dough square. Using fingertips, gently press the edges of each tart to seal them. Dust a fork with flour, then double-seal the edges and create a decorative border using the tines of the fork. Using a toothpick, poke a few holes in the center of top dough square. Cover with plastic wrap or foil; transfer sheet pan to the freezer for at least 2 hours.
Make Glaze: Combine the powdered sugar, butter, water, lemon juice, vanilla and salt. Set aside.
Bake Pop-Tarts: Preheat oven to 375°F and position rack in the middle of the oven. Bake frozen tarts, uncovered until golden, about 20 to 25 minutes total (some preserves may leak out). Immediately transfer tarts to cooling rack and brush lemon glaze evenly over the top of each pop-tart.
Serve: Serve warm or at room temperature with fresh berries and powdered sugar as a garnish. Store in an airtight container.
Recipe created by Parties That Cook®
Serves/Makes
Makes 16 mini Pop-Tarts