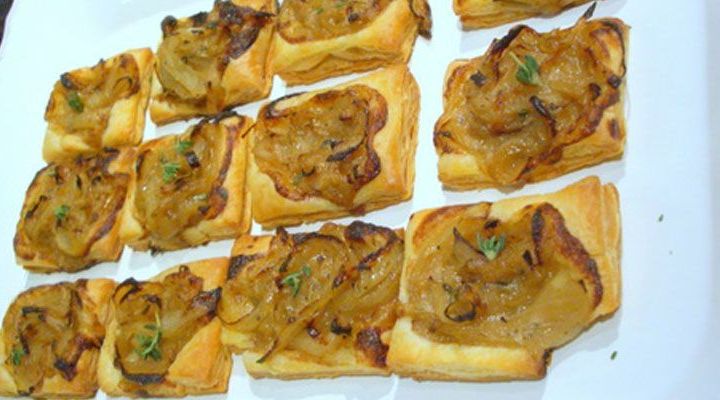 Mini Onion and Black Olive Tartlets
Ingredients
Pastry:
1/3 cup heavy cream
1/2 teaspoon kosher salt
1 frozen puff pastry sheet (from a 17 1/4-oz package), thawed
Flour for dusting work surface, if necessary
Parchment paper

Topping:
2 onions, halved lengthwise and cut crosswise into 1/8-inch thick slices
2 flat anchovy fillets soaked in 2 Tablespoons of milk (optional)
1 teaspoon chopped fresh thyme
2 Tablespoons extra virgin olive oil
1 Tablespoon balsamic vinegar
1/2 teaspoon kosher salt
1/4 teaspoon freshly ground black pepper

Garnish:
1/4 cup Kalamata or other brine-cured black olives, pitted and very thinly sliced lengthwise
Thyme sprigs for garnish
Methods/Steps
Preheat oven to 400ºF

Prepare and Bake Pastry: In a small bowl, mix together the cream and salt. Prick pastry sheet all over with a fork. Cut into 36 squares and transfer to parchment-lined sheet pan(s), arranging squares about 2 inches apart. Brush with cream/salt mixture. Bake in upper and lower thirds of oven, switching position of pans halfway through baking, until puffed and golden, 8 to 12 minutes. Transfer squares to a rack and cool slightly.

Slice Aromatics: While pastry is baking, peel and slices the onions. If using anchovies, soak anchovies in milk for a few minutes (to get rid of the fishy taste). Remove anchovies from the milk and chop finely, set aside. Lastly, chop the thyme.

Make Topping: Heat the olive oil in a large sauté pan over moderate heat until hot but not smoking. Add onions, anchovies, thyme, vinegar, salt and pepper. Sauté the onions until golden brown, stirring occasionally, about 15 to 20 minutes. While the onions are cooking, pit and slice the olives.

Assemble and Serve: Make a small indentation in center of each puff square with your finger. Top each puff with 1 heaping teaspoon of onion mixture and 2 crossed olive slivers. Return to oven for 2 minutes to reheat. Garnish each square with thyme sprigs. Serve immediately while warm.
Recipe created by Parties That Cook®
Serves/Makes
Makes 36 Mini Tartlets