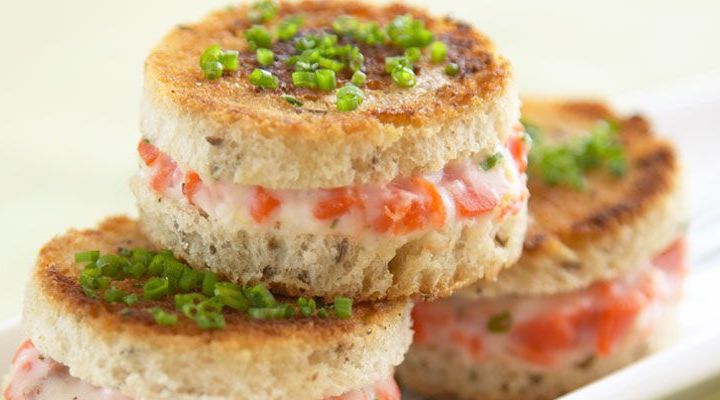 Mini Smoked Salmon Croque Monsieur Sandwich Recipe
Ingredients
Rye Bread:
24 slices light rye bread

Filling:
2 Tablespoons unsalted butter
2 Tablespoons all-purpose flour
1 cup milk
4 ounces thinly sliced smoked salmon, coarsely chopped
3/4 cup (4 ounces) shredded Gruyère cheese
1/2 cup chives, minced
1/4 teaspoon whole nutmeg, freshly grated
1 teaspoon lemon juice
1/2 teaspoon lemon zest
1/2 teaspoon kosher salt
1/4 teaspoon black pepper, freshly ground

Sandwiches:
6 Tablespoons unsalted butter
Toothpicks for serving
Chives for garnish
Methods/Steps
Preheat oven to 325ºF

Prepare Bread: Using a 2-inch round cookie cutter, cut out 2 circles from each bread slice. Toast in the oven on a sheet pan for about 5 minutes to dry out the bread.

Make Filling: In a medium saucepan, melt the butter. Stir in the flour until completely blended; cook over moderately high heat, stirring constantly, about 3 minutes. Gradually whisk in the milk until smooth. Bring the sauce to a boil, whisking constantly. Reduce heat to low and simmer, whisking often, until thickened and no floury taste remains, about 5 minutes. Remove from the heat and let the sauce cool slightly, stirring, until very warm. Stir in the smoked salmon, Gruyère, chives, nutmeg, lemon juice and zest, salt and pepper and let the sauce cool completely.

Make Sandwiches: Increase oven temperature to 400° F. Spread 1 Tablespoon of salmon mixture over half of the bread slices and close sandwiches. In a large skillet, melt about 2 Tablespoons of the butter over moderate heat. Cook the sandwiches, turning once, until browned, about 1-2 minutes per side. Transfer sandwiches to a sheet pan, leaving a little space between each one. Repeat with the remaining sandwiches, using 2 Tablespoons of butter per batch.

Serve: Reheat the sandwiches in the oven for about 8 minutes, until piping hot. Skewer each sandwich with a toothpick and garnish with a crisscross of chives.
Recipe created by Parties That Cook®
Serves/Makes
Makes 24 Mini Sandwiches