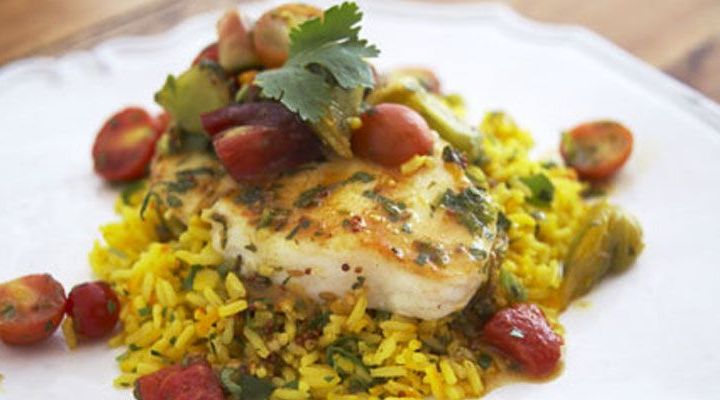 Miso-Mirin Glazed Black Cod Recipe
Ingredients
1 cup mirin (sweet Japanese rice wine)
1/2 cup sake
2/3 cup white miso paste (fermented soybean paste)
1/4 cup sugar
½ teaspoon kosher salt
Eight 6- ounce skinless black cod fillets, about 1 inch thick, pin bones removed
Canola oil
Methods/Steps
Miso-Mirin Glaze: In a small saucepan, bring the mirin and sake to a boil. Whisk in the miso until dissolved. Add the sugar and salt and cook over moderate heat, whisking, just until dissolved. Transfer the marinade to a large baking dish and let cool. Add the fish and turn to coat. Cover and refrigerate for 2 hours or overnight. Alternatively, marinate in an instant marinator.
Sear-Roast: Preheat the oven to 400°F. Heat a sauté pan and oil it. Scrape the marinade off the fish and reserve marinade. Pat fish dry with a paper towel. Sear the fish and cook over high heat until browned, about 2 minutes. Flip the fish onto a heavy rimmed sheet pan with browned side face up and roast for 8-10 minutes, until flaky. Cover sheet pan with foil to keep fish warm while making sauce.
Sauce: Reduce reserved marinade for 2 minutes. Do not over reduce or it will get thin and grainy. Serve fish with a small spoonful of sauce.
Recipe created by Parties That Cook®
Serves/Makes
Serves 8