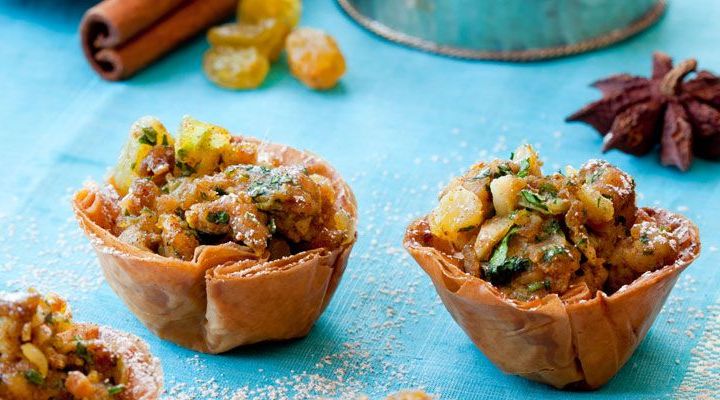 Moroccan Bisteeya Baskets Filled with Chicken, Raisins, and Cinnamon Recipe
Ingredients
Chicken Filling:
2 Tablespoons unsalted butter
1 small onion, finely chopped
2 cloves garlic, minced
1/4 teaspoon saffron threads
1/2 teaspoon turmeric
1 Tablespoon fresh ginger, grated
1 1/2 teaspoons cinnamon
1/2 teaspoon cumin seeds, toasted and ground
2 teaspoons kosher salt
1/2 teaspoon ground pepper
2 pounds boneless chicken thighs, shredded in a food processor
3/4 cup golden raisins, chopped
3 eggs, beaten
1/2 cup slivered almonds, lightly toasted and chopped
1/3 cup flat leaf parsley, chopped
1/4 cup cilantro, chopped
Topping:
2 teaspoons ground cinnamon
1/4 cup powdered sugar
Baskets:
6 sheets of phyllo dough (1/3 pound)
1 sticks unsalted butter, melted
Methods/Steps
Preheat oven to 375ºF.
Filling: Melt butter in large sauté pan. Add chopped onion. Cook on medium heat until begin to brown, about 5 minutes. Add garlic, saffron, turmeric, ginger, cinnamon, cumin, salt and pepper and cook 1 more minute. Add chicken and cook over low heat until cooked through, about 5 minutes. Add chopped raisins and then slowly add the beaten eggs, stirring constantly until set, about 2-3 minutes. Mixture looks curdled. Transfer the filling to a bowl to cool. Stir in almonds and the chopped parsley and cilantro.
Topping: Combine cinnamon and powdered sugar. Set aside.
Make Baskets: Place 1 sheet phyllo on dry surface. Keep remaining dough moist with damp towel. Brush with melted butter. Top with second sheet, brush with butter. Finish with third sheet, brush with butter. Cut out a 3-inch circle. Sprinkle circle with the cinnamon sugar topping. Transfer the circle in a mini muffin tin. Once a muffin tin is full, transfer to the oven and bake for 10 minutes or until golden. Remove from the oven and fill each cup with chicken filling and return to the oven for 2 more minutes to heat through.
Serve: Sprinkle with more cinnamon topping and garnish with a cilantro sprig and serve while hot.
Recipe created by Parties That Cook®
Serves/Makes
Makes 30