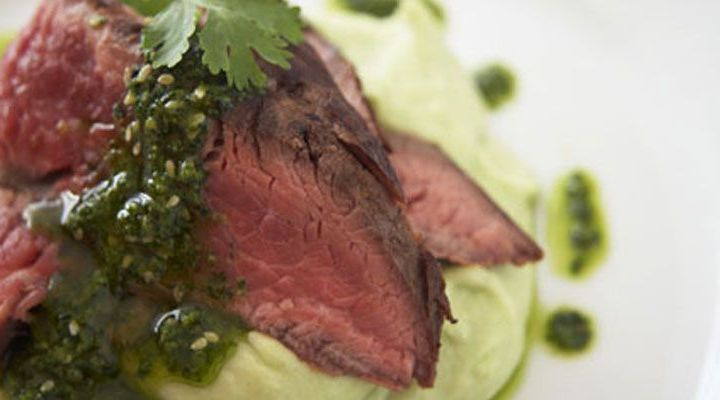 New York Strip Steak with Ricotta Salata Salsa Verde Recipe
Ingredients
Marinade:
1/2 cup olive oil
1/4 cup dry red wine
1/4 cup red wine vinegar
1 small red onion, coarsely chopped
3 garlic cloves, peeled
1 Tablespoon tomato paste
2 teaspoons toasted and ground cumin seeds
1 teaspoon freshly ground black pepper
1 teaspoon sweet pimentón de la Vera (smoked Spanish paprika)
Finely grated zest and juice of 1 lemon
1 1/2 teaspoons kosher salt
8 8oz New York steaks (for vegetarians, substitute portobello mushrooms)
Ridged Grill Pan and instant marinator
Ricotta Salata Salsa Verde:
1 cup flat-leaf parsley, minced
1/4 cup mint, minced
1 teaspoon oregano leaves, minced
2 Tablespoons chives, minced
1 Tablespoon tarragon, minced
2 medium shallots, minced
1 small garlic clove, smashed
3 Tablespoons drained capers, chopped
1 cup extra-virgin olive oil
Juice of 1 lemon
4 ounces ricotta salata, crumbled
1 teaspoon kosher salt
1/4 teaspoon freshly ground pepper
Methods/Steps
Marinate Steaks: In a food processor or blender; combine all of the marinade ingredients and process to blend. In a large, shallow dish or bowl, pour the marinade over the steaks and turn to coat. Cover and refrigerate overnight. If you're pressed for time, place the steaks (in batches) in an instant marinator.

Grill Steaks: Remove steaks from the marinade, pat dry and season with salt. Grill the steaks on a ridged grill pan over high heat until medium-rare, about 3 minutes per side. Alternatively, grill on one side, transfer to a sheet pan and finish cooking in a 400ºF oven for 5 minutes.

Make Salsa Verde: Add chopped parsley, mint, oregano, chives, tarragon, shallots, garlic, capers, olive oil and lemon juice to a medium bowl. Mix with a fork. Gently stir in crumbled ricotta Salata. Add salt and pepper.
Serve: Serve steaks with a generous dollop of the salsa verde.

Recipe created by Parties That Cook®
Serves/Makes
Serves 8