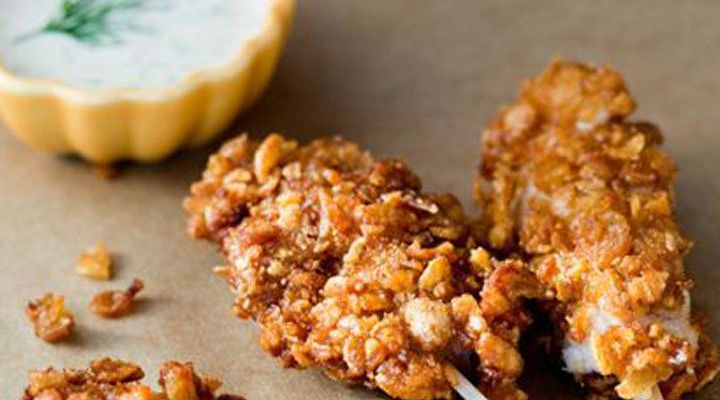 Oatmeal Crusted Fried Chicken Skewers with Buttermilk Herb Dressing
Ingredients
Chicken and Brine:
4 cups water
1/4 cup kosher salt
1/4 cup sugar
1 clove garlic, smashed
2 bay leaves
1/2 teaspoon black peppercorns, cracked
2 pounds boneless, skinless chicken breasts
4 cups canola oil for frying
Short wooden skewers

Oatmeal Coating:
2 cups all-purpose flour (may sub any gluten free flour as well)
2 teaspoons kosher salt, divided
1/2 teaspoon freshly ground black pepper, divided
1 cup buttermilk
2 cups rolled oats, lightly crushed with fingertips
1/2 teaspoon cayenne pepper

Buttermilk Herb Dressing:
1/2 cup sour cream
1/2 cup mayonnaise
1/2 cup buttermilk (Hint: Use more for thicker dressing)
2 teaspoons garlic powder
1 Tablespoon chopped parsley
1 Tablespoon chopped chives
1/2 teaspoon Tabasco
2 teaspoons Worcestershire sauce
1 teaspoon kosher salt
1/8 teaspoon ground black pepper
Methods/Steps
Brine Chicken: In a large bowl, mix water, salt, sugar, garlic, bay, and peppercorns together. Immerse the chicken in the brine for 1 hour. Remove the chicken from the brine and rinse under cold water to remove any herbs or garlic. Dry the chicken completely.

Prepare to Fry: Pour a depth of 2-3 inches of canola oil into a large frying pan. Using a thermometer, bring the oil up to 350Fº. Set up a cooling rack over a sheet pan to place the fried chicken onto.

Set Up Dredging Station: Place the flour into a wide bowl and season with half of the salt and pepper. Add the buttermilk into another wide bowl or cake pan and place next to the seasoned flour. Lastly, in a third wide bowl or cake pan add the rolled oats. Gently crush oats with your fingertips just to break them up a bit. Add the cayenne and the remaining salt and pepper. Mix well. Place an empty parchment lined sheet pan at the end of the station by the oats.

Slice Chicken: Cut the chicken breasts into thin strips about 1" wide x 2" long x 1/2" thick.

Coat Chicken: Working in batches, place a handful of chicken into the flour. Shake off all excess flour then dip chicken into the buttermilk, let excess drip off; then dredge chicken into the oats. Place the chicken onto the parchment-lined sheet pan.

Fry Chicken: Once the oil is 350Fº, place 6-8 pieces of chicken in the hot oil and fry until a deep golden brown, about 4 minutes. Transfer to the cooling rack. Repeat with remaining chicken.

Make Dressing: Mix all of the ingredients together in a medium bowl. Transfer to a decorative bowl.

Serve: Pierce each piece of chicken with a skewer, place onto a platter and serve with the dressing.
Recipe created by Parties That Cook®
Serves/Makes
Makes 24-30 skewers