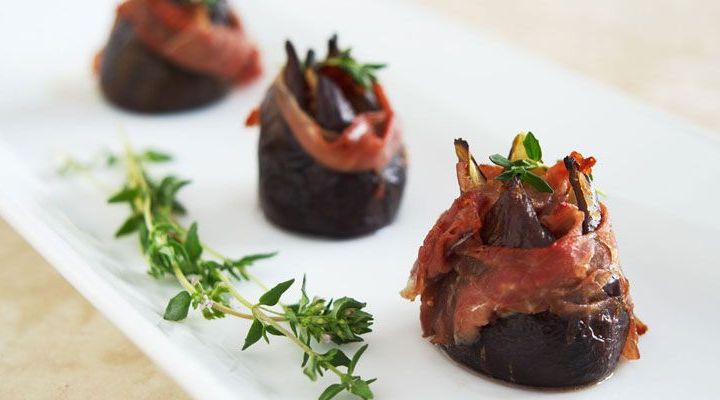 Oven-Roasted Figs Wrapped in Prosciutto with Melted Gorgonzola Centers Recipe
Ingredients
24 ripe Black Mission figs
3 Tablespoons butter, melted
12 slices prosciutto
3 ounces Dolce Latte Gorgonzola, (can substitute Cambozola)
1/2 bunch thyme
Methods/Steps
Preheat oven to prepare for broiling.
Prepare Figs: Cut off the stem of each fig. To make a pocket for the cheese, slice down through the stem of each fig about a half an inch then rotate it and slice down again, creating an X as you view it from the top. Cut each piece of prosciutto in half length-wise. Wrap each fig in prosciutto around the circumference of the fig leaving the stem end of the fig exposed. Brush the fig wrapped in prosciutto with butter. Stuff each pocket in the fig (where you made the slice previously) with Gorgonzola.
Roast: Broil the figs for about 5-10 minutes, until the Gorgonzola is melted and the figs are plump.
Garnish and Serve: Garnish each "fig in a blanket" with the tip of a sprig of thyme. Serve immediately while still warm.
Recipe created by Parties That Cook®
Serves/Makes
Makes 24