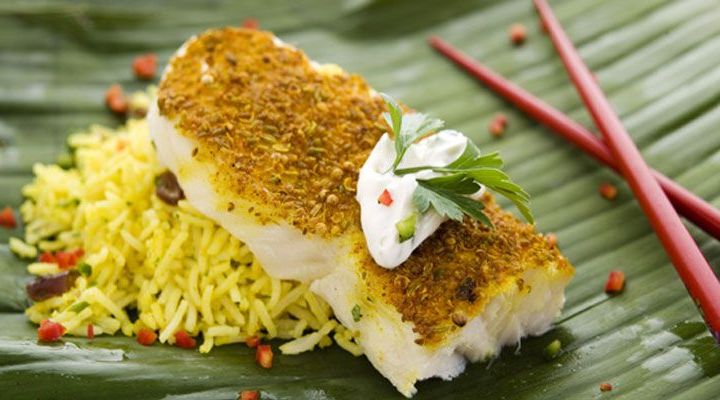 Pan Fried Sand Dabs with Watercress, White Balsamic Reduction and Sea Salt Recipe
Ingredients
Sand Dabs:
16 (3 ounce) sand dab fillets (can substitute eggplant slices for vegetarians)
3/4 cup white wine
1 garlic clove, minced
1 Tablespoon olive oil
1 lemon, zested and juiced
1 cup flour
1 Tablespoon kosher salt
1 Tablespoon smoked paprika
1 teaspoon freshly cracked black pepper
1/2 cup mixed fresh herbs, coarsely chopped (dill, thyme, basil, chives, and parsley work really well!)
1/2 cup extra virgin olive oil
1/4 cup butter
Fine sea salt
Watercress Salad:
1/2 cup white balsamic vinegar
1 1/2 Tablespoons honey
1/2 pound Sausalito curly watercress (can sub regular watercress with the thick stems, not the baby varieties)
2 Tablespoons extra virgin olive oil
1 teaspoon fine sea salt
1 lemon cut into wedges for garnish
Methods/Steps
Prepare Fillets: Trim, rinse, and pat dry sand dab fillets and place in a large flat baking dish. In a small bowl, mix white wine, garlic, olive oil, and lemon juice/zest and gently pour over sand dabs. Cover and marinate for 30 minutes in refrigerator. If you're pressed for time, place the fillets (in batches) in an instant marinator. In a cake or pie pan, mix the flour, salt, paprika, pepper, and fresh herbs together.
Cook Fish: Dredge marinated fillets in flour-herb mixture to coat completely. Heat a large sauté pan over medium high heat for 1 minute. Add the oil and the butter to the pan and heat until the butter no longer bubbles. Working in batches, add the fillets and cook for about 2 minutes per side. Use a spatula to flip fillets. Remove from the sauté pan onto a sheet pan. Sprinkle lightly with fine sea salt and keep warm.
Reduce Balsamic: Combine balsamic and honey in a sauté pan and simmer for 2 minutes. Set aside.
Dress Watercress: Place the watercress into a medium bowl and toss with the olive oil and salt.
Plate: Place 2 fillets onto each dinner plate. Top the fillets with a handful of watercress. Drizzle the balsamic reduction all over the salad and fish. Serve with a lemon wedge.
Recipe created by Parties That Cook®
Serves/Makes
Serves 8