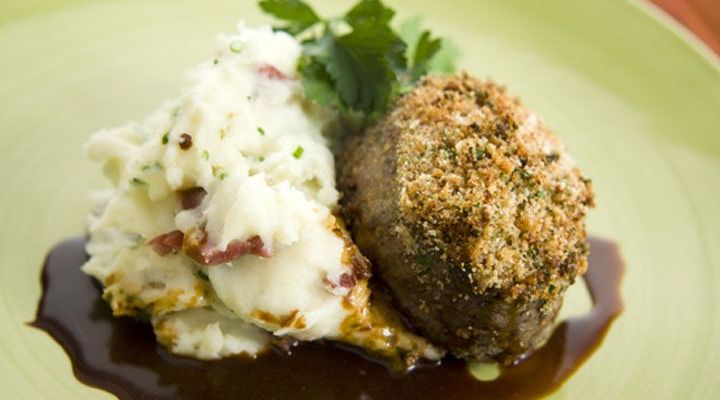 Parmesan and Herb Crusted Filet Mignon Recipe
Ingredients
Breadcrumb Mixture:
1 cup homemade breadcrumbs
1/4 cup freshly grated Parmesan cheese
1 salt-packed anchovy fillet, soaked in 1T of milk for 10 minutes, drained and finely chopped
1 garlic clove, finely chopped
1 1/2 teaspoons thyme, finely chopped
1 1/2 teaspoons flat-leaf parsley, coarsely chopped
1 Tablespoon extra virgin olive oil
1 teaspoon kosher salt
1/2 teaspoon freshly ground black pepper
Filet Mignon:
3 pounds center-cut beef tenderloin, trimmed, at room temperature
2 Tablespoons extra virgin olive oil
1 Tablespoon kosher salt
2 teaspoons black peppercorns, coarsely cracked
2 Tablespoons Dijon mustard
Red Wine Sauce:
2 cups dry red wine
4 cups beef stock, reduced to 1/4 cup
3 Tablespoons cold unsalted butter, cut into small pieces
1 Tablespoon good-quality balsamic vinegar
1/4 teaspoon freshly ground black pepper
Methods/Steps
Preheat the oven to 400°F.
Make Breadcrumb Crust: In a medium bowl, mix the breadcrumbs with the Parmesan, anchovy, garlic, thyme and parsley. Mix in olive oil and season the breadcrumb mixture with the salt and pepper.
Sear and Roast Filets: Slice the tenderloin into 8-10 round filets. Rub the filets all over with olive oil and season with salt and the cracked peppercorns. In a large sauté pan, sear the filets on both sides, 1-2 minutes per side. Reserve the sauté pan. Transfer the filets onto a sheet pan, allowing space between them. Brush the tops of each filet lightly with Dijon mustard. Cover the top of each filet with 2 Tablespoons of the breadcrumb mixture. Roast in the upper third of the oven for 6 minutes (for rare) or until the internal temperature of the meat reaches the desired doneness (125°F rare, 140°F medium, 155°F well done).
Make Sauce: While the filets are resting, add the wine to the reserved sauté pan and bring to a simmer over moderately high heat, scraping up any browned bits from the bottom. Strain the wine into a medium saucepan and simmer over high heat until reduced by half. Just before serving, whisk in the reduced beef stock and then the butter, a few pieces at a time. Add vinegar and pepper.
Serve: Drizzle sauce on the plate and then top with filet (if you put it on top it makes the crust soggy).
Recipe created by Parties That Cook®
Serves/Makes
Serves 8