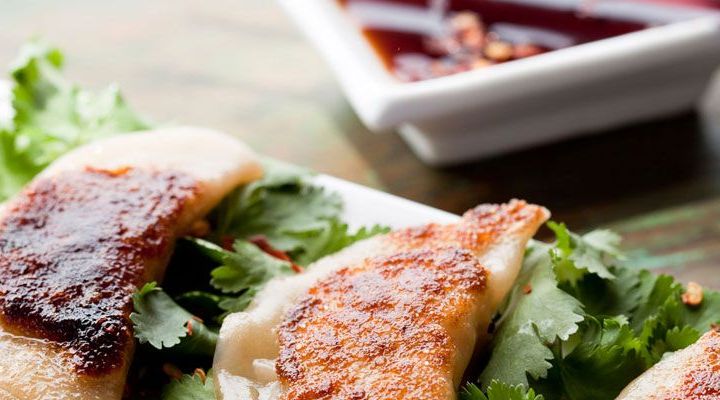 Peanut and Coconut Potstickers with Sweet & Spicy Dipping Sauce Recipe
Ingredients
Wontons:
7 green onions, minced
3/4 cup lemon juice
1 1/2 jalapeno peppers, minced
6 Tablespoons sugar
2 1/4 cups unsalted peanuts, toasted
3/4 cup shredded unsweetened coconut
1 Tablespoon kosher salt
1 3/4 cups plain breadcrumbs
2 package wonton wrappers (80)
Cornstarch for dusting the sheet pan
2 Tablespoons canola oil for frying potstickers
Sweet & Spicy Soy Dipping Sauce:
1 cup soy sauce
1/2 cup water
1 cup palm sugar
6 green onions
1/2 teaspoon Sambal or Sriracha hot sauce
2 Tablespoons lime juice
2 Tablespoons rice vinegar
2 Tablespoons corn starch, mixed with 2 Tablespoons of cold water
Methods/Steps
Make Filling: In a small bowl, combine the green onions with the lemon juice, minced jalapeno pepper, sugar, peanuts, coconut, and salt. Stir in breadcrumbs to bind the mixture together.
Assemble: Put 6 won ton wrappers on a dry surface (leave remaining wrappers in package, covered with a damp towel to prevent drying and cracking). Spray lightly with water using a spray bottle, (or, brush all edges with a wet pastry brush) focusing on edges. Mound about 1 heaping teaspoon of filling in the center of each wrapper. Gather four corners of each wrapper and seal into a point. Make sure all seams are sealed tightly. Place on a tray dusted with cornstarch.

Fry Pot Stickers: In a large nonstick pan, heat half the canola oil over moderately high heat until hot but not smoking. Fry pot stickers, flat side down, until undersides are golden brown, about 1 minute. Add water, pouring gently down the side of skillet. Be careful as it may splatter. Cover skillet and steam pot stickers over moderately low heat until cooked through, about 2 minutes. Remove lid and cook pot stickers until water is evaporated.
Make Dipping Sauce: Heat soy sauce and water in a small sauce pan. Add palm sugar, green onions, hot sauce, lime juice, rice vinegar, and corn starch, stirring to combine. Bring to a boil, then simmer for 5 minutes or until thickened a bit. Remove from heat and let cool for 1 minute, then transfer to serving bowl. Serve the wontons warm with the soy dipping sauce.
Recipe adapted by Parties That Cook®
Serves/Makes
Makes 80 Pot Stickers