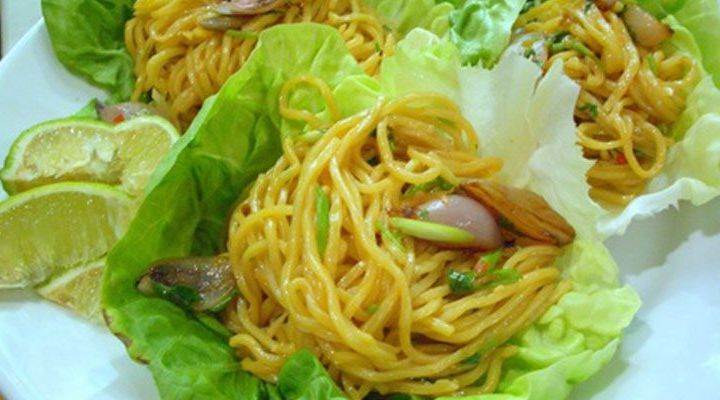 Peanut and Gingered Noodle Cabbage Cups with Hoisin Glazed Duck Breast
Ingredients
Duck:
2 8oz boneless duck breasts (can sub chicken breasts)
1/2 teaspoon kosher salt
1/8 teaspoon freshly ground black pepper
Hoisin Glaze:
1/4 cup hoisin
1 1/2 Tablespoons honey
Juice of 1 lime
1/8 teaspoon kosher salt
Spicy Peanut Noodles (makes about 2/3 cup of dressing):
4 ounces rice vermicelli (maifun) can use angel hair pasta
1 large clove garlic, minced
2 teaspoons ginger, minced or juiced
2 teaspoons fresh chile paste, like sambal
1/4 cup high-quality peanut butter
1 1/2 Tablespoons light brown sugar
1/2 teaspoon sesame oil
2 Tablespoons canola oil
2 Tablespoons tamari
2 Tablespoons water
Juice of 1 lime
1/4 cup cilantro leaves, chopped
Cups and Garnish:
1/4 cup roasted and salted peanuts, roughly chopped
2 scallions, sliced thinly on the bias
1 large head of savoy cabbage or 3 heads of endive work well
Methods/Steps
Score Duck: Score the fatty skin side of the duck breasts by cutting 3 or 4 slits into the skin, on an angle, without cutting into the breast meat. Season the duck with the salt and pepper.

Render Duck: Place the duck skin side down into a cold sauté pan. Turn the heat on to medium and slowly start to render out the duck fat. Move the breasts around slightly to make sure they aren't sticking. Render the breasts for 15 minutes or until the skin is golden and crisp. Turn breast over and sear for 2 more minutes, the duck will be medium rare. Transfer to a sheet pan, skin side up, to rest until ready to assemble.

Make Glaze: Place the hoisin and honey into a small sauté or sauce pan. Whisk, bring up to a boil, and add the lime juice and salt. Simmer for just a couple seconds and then remove from heat and set aside.

Prepare Noodles: Cover the rice noodles in boiling water and let steep until soft, about 2 minutes. Drain and rinse in cold water. Drain well, coarsely chop and set aside.

Make Peanut Dressing: In a medium to large bowl whisk together the remaining ingredients. Add the noodles and mix until well combined. Taste and re season if necessary.

Prepare Garnishes: Roughly chop the peanut and thinly slice the scallions. Set aside.

Prepare Cups: Cut the cabbage head in half and cut out the core. Start removing leaves and tearing them into small cups. Remove any thick stem areas as you trim the leaves down. Some of the large leaves are able to be torn into 3 cups, others in half and some of the little cups remain the same. Lay the cups out onto the work surface. If using endive, cut off the bottom core by about an inch. The endive falls into little bite size cups. Discard the tiny inner pieces. Place a heaping tablespoon of noodles into the cups, leaving any excess dressing in the bowl.

Slice the Duck: Place the duck on the cutting board skin side down and prepare to thinly slice. Each breast should yield 12-15 nice thin slices, so slice carefully and quickly cut through the skin. Place a slice of duck onto each cup.

Finish Assembly: Once all of the cups have noodles and duck, spoon a little bit of the glaze over each slice of duck (helpful hint: you may need to reheat glaze with a little water if it cooled too thick). Place the cups onto a decorative platter and sprinkle with green onions and chopped peanuts. Serve immediately.
Recipe created by Parties That Cook®
Serves/Makes
Makes 24-30 pieces