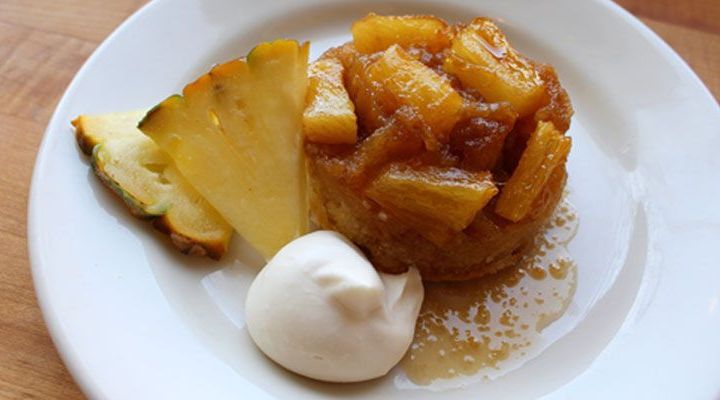 Pineapple Upside-Down Cakes with Whipped Crème Fraiche Recipe
Ingredients
Ramekins:
Ramekins or disposable baking cups
Cooking spray
¼ cup sugar
Pineapple Mixture:
¼ cup butter, melted
½ cup brown sugar
¼ pineapple, cored and diced in a ½-inch dice
Pineapple Upside-Down Cake:
½ cup butter, softened
1 cup sugar
2 eggs
1 teaspoon vanilla
1½ cups AP flour
1 teaspoon baking powder
¼ teaspoon kosher salt
½ cup buttermilk
Whipped Crème Fraiche:
1 cup crème fraiche
¼ cup sugar
1 teaspoon vanilla
Methods/Steps
Prep the Cups: Preheat the oven to 375°F. Line a sheet pan with the baking cups. Spray, coat with sugar and set aside.
Make the Topping: Divide the brown sugar evenly between the prepped ramekins. Pour the melted butter over the sugar, and carefully arrange pineapple slices on the bottom of each ramekin. Set aside.
Make the Cakes: Line a sheet pan with a cooling rack, set aside. In a large mixing bowl, add the butter and beat with a hand mixer until creamy. Gradually add the sugar and continue to mix until fluffy. Add the eggs, one at a time, completely incorporate each egg before adding another. Add the vanilla and set aside.
In another mixing bowl, add the flour, baking powder and salt. Mix together. Add in batches, alternating with the buttermilk, beginning and ending with the flour mixture. Mix until just incorporated. Fill in the ramekins with ¼ cup cake batter. Ramekins will be full. Bake for about 20 minutes or until a toothpick comes out clean. Cool for 5 minutes and invert onto a serving plate.
Whipping Crème Fraiche: In a mixing bowl, add all ingredients and whip by hand to soft peaks. Serve a dollop on each cake.
Recipe created by Parties That Cook®
Serves/Makes
Serves 8