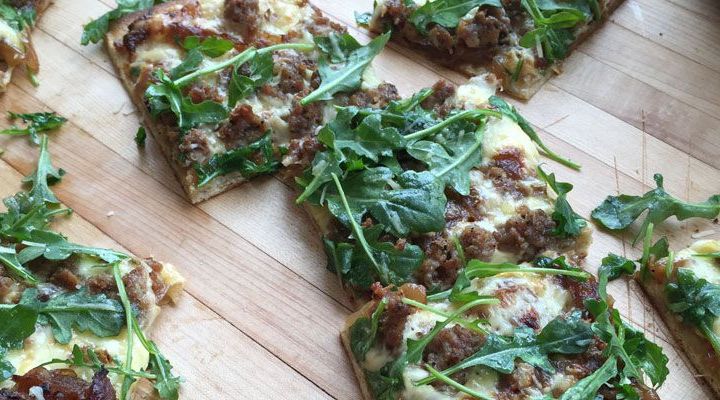 Pizza with Spicy Lamb, Tomatoes, and Arugula Salad Recipe
Ingredients
Pizza Toppings:
2 Tablespoons extra-virgin olive oil
1 1/2 cups (6 ounces) Fontina cheese, coarsely grated
1 cup (4 ounces) mozzarella cheese, coarsely grated
1 small onion, finely chopped
1/2 cup red wine (e.g. Cabernet Sauvignon)
3/4 pound ground lamb
2 cloves garlic, minced
1 1/2 cups peeled, seeded, chopped plum tomatoes, fresh or canned
1 Tablespoon tomato paste
3 Tablespoons chopped fresh parsley
3 Tablespoons chopped cilantro
1/8 teaspoon ground cinnamon
4 mint leaves, chopped
1/8 teaspoon ground allspice
1/8 teaspoon ground cloves
1/4 teaspoon crushed red pepper flakes
1/2 cup toasted pine nuts
2 teaspoons fresh lemon juice
1 1/2 teaspoons kosher salt
Arugula Salad:
1 clove garlic
1 Tablespoon lemon juice
2 Tablespoons extra-virgin olive oil
Pinch of kosher salt
½ pound wild arugula
Pizza Dough:
1 recipe of basic pizza dough
Methods/Steps
Prepare dough: Prepare pizza dough and preheat oven as outlined in the basic pizza dough recipe.
Cheese: Combine the two grated cheeses in a small bowl and set aside.
Lamb Sauce: In a large sauté pan, heat 2 Tablespoons of olive oil over medium-high heat; sauté the onions until soft, about 10 minutes. Add the red wine and cook until reduced to a syrup. Add the lamb, garlic, tomatoes, tomato paste, parsley, cilantro and spices. Cook slowly, uncovered, for 10 minutes. Remove from heat. Right before the pizza assembly, add the pine nuts, lemon juice and salt.
Arugula Salad: Mix together the garlic, lemon juice, olive oil and salt. Toss half of the dressing with the arugula. Add additional dressing to taste.
Rolling and Assembly: Once the dough has doubled in bulk, remove the dough from the bowl and cut in half with out working it. Do not work the dough, as it will make it too elastic when you try to roll it out. Instead, generously dust the dough with flour and begin to roll out. If the dough is too elastic, let it rest, covered for 15 minutes then try rolling again. Do this until the dough is rolled to form a 9-inch circle, that is 1/4-inch thick. Transfer it to a pizza peel that has been sprinkled with semolina or cornmeal. Sprinkle a quarter of the cheese mixture on the top, then half of the spiced lamb mixture then another quarter of the cheese mixture. Slide the pizza onto the preheated stone and bake until golden and crisp, 8-10 minutes. Remove the pizza from the oven, let cool slightly then mound the arugula salad on top and serve immediately. Repeat with the remaining ingredients to make a second pizza.
Note: If cooking on an outdoor grill, heat up the grill on medium then turn the grill down to low. Brush the grill with olive oil. Also brush the top of the pizza dough. Turn the dough over onto a pizza peel dusted generously with polenta or semolina and then slide onto the grill. Brush the top side of the pizza with oil and add toppings. Close the grill cover. After a few minutes or when the bottom has started to firm up and crisp, turn off the grill (or move the pizza to a part of the grill that is off), close the cover and let the pizza cook in the ambient heat until the dough is cooked and the cheese is melted.
Recipe created by Parties That Cook®
Serves/Makes
Makes 2, 9-inch pizzas