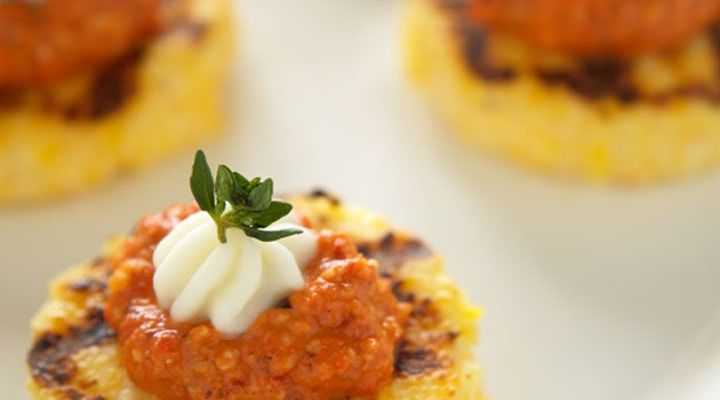 Polenta Toast with Red Bell Pepper Pesto and Goat Cheese Recipe
Ingredients
Polenta:
Canola oil for oiling sheet pan and frying
7 cups milk
2 3/4 teaspoons kosher salt
2 Tablespoons unsalted butter
2 1/2 cups polenta (coarse cornmeal)

Red Bell Pepper Pesto:
2 red bell peppers
1 chipotle chile in adobo sauce, seeds removed and chopped
1/4 cup smoked almonds
2 large cloves garlic
3 Tablespoons extra-virgin olive oil
1 Tablespoon lemon juice plus 1/4 teaspoon lemon zest
2 Tablespoons freshly grated Parmesan cheese
1 teaspoon kosher salt

Toasts:
7 ounces goat cheese
1 Tablespoon milk or cream
Thyme sprigs for garnish
Methods/Steps
Polenta: Lightly oil a rimmed baking sheet. Combine milk, salt and butter in a large heavy saucepan. Bring to a boil. Gradually add the polenta, whisking until smooth. Reduce heat to low. Cook the polenta until it is creamy and thick, stirring frequently, about 5 minutes. Pour out onto oiled sheet, spread evenly so that it is very smooth and flat. Let cool to room temperature.

Red Bell Pepper Pesto: Roast the peppers over a stovetop flame until blackened (or broil in the oven until blackened). Transfer to a paper bag for 5 minutes to steam then peel off the charred skin and remove seeds and stem. In a food processor, blend the peppers, chipotle, almonds, garlic, oil, lemon juice and zest, Parmesan and salt until very smooth.

Grilled Polenta: Using a wet, 2 inch round cookie cutter, cut out polenta circles. Heat canola oil in a large non-stick grill pan or griddle. Cook polenta on one side until golden then flip and cook on the other side. Transfer finished circles to a serving platter.

To Serve: Mix the goat cheese, milk and thyme with a fork. Spoon goat cheese into a pastry bag fitted with a star tip. Put a dollop of the pesto onto each polenta circle. Pipe a rosette of goat cheese in the center. Garnish with thyme sprig and serve.
Recipe created by Parties That Cook®
Serves/Makes
Makes 24 Polenta Toasts