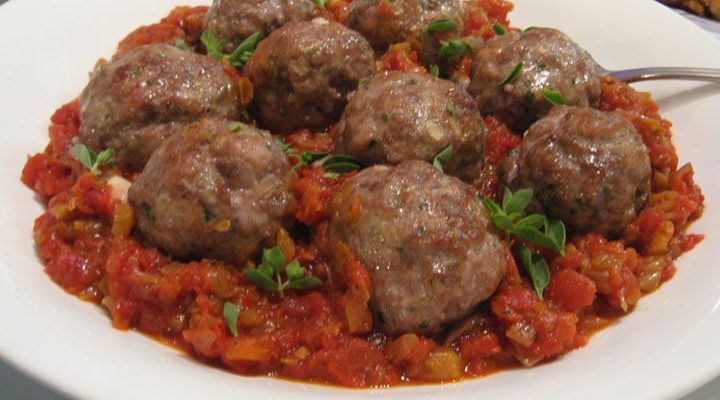 Polpettini: Little Meatballs Braised in Tomatoes, Garlic and White Wine Recipe
Ingredients
Meatballs:
1 pound ground pork
1 pound ground veal
3 ounces prosciutto, minced
1 Tablespoon kosher salt
2 cloves garlic, minced
1/2 teaspoon red pepper flakes
1 teaspoon fennel seeds
1 Tablespoon dried oregano
1 teaspoon dried thyme
1/2 yellow onion, minced finely
1/4 cup parsley, minced
1/2 cup (4 ounces) Parmigiano-Reggiano, grated
1 1/2 cups good-quality Italian breadcrumbs
1 cup fresh ricotta
1/4 cup milk
2 eggs, mixed with a fork
Tomato, Garlic, Wine Braise:
2 Tablespoons olive oil
1 onion, chopped
1 carrot, chopped finely
1 clove garlic, minced
3/4 cup white wine
4 cups Muir Glen crushed tomatoes
1 cup chicken stock
1/2 cup basil, coarsely chopped + 1/4 cup for garnish
2 Tablespoons fresh oregano, minced
2 teaspoons kosher salt
Grated Parmigiano-Reggiano for garnish
10 basil leaves, chiffonade
Loaf of crusty bread, sliced
Toothpicks
Methods/Steps
Preheat oven to 400°F.
Form Meatballs: In a large mixing bowl, combine pork, veal, prosciutto, salt, garlic, pepper flakes, fennel seeds, oregano and thyme. Add the onion, parsley and Parmigiano-Reggiano and mix by hand. Add the breadcrumbs, ricotta and milk. Mix by hand. Add the eggs and stir until just barely incorporated (don't overmix). Form the mixture into about 5 dozen 1-inch balls and place on two well-oiled sheet pans. Bake until browned, about 12 minutes. (Rotate pan halfway through).
Prepare Tomato-Wine Braise: In a large saucepan, heat oil over medium heat. When the oil is hot, add the onion and carrot and cook until the carrot is softened and the onion is translucent, about 6 minutes. Add garlic, then deglaze with the white wine and cook for 1 minute to evaporate wine. Then add the crushed tomatoes, stock, basil, oregano and salt. Increase heat to high and simmer for 5 minutes.
Finish Meatballs: Drain the fat off the meatballs. Transfer meatballs into a presentable ovenproof baking dish. Pour the braising liquid over them (it should barely cover the meatballs). Return to the oven and braise for 5-10 minutes until cooked through.
Serve: Garnished with Parmigiano-Reggiano and basil. Put crusty bread around the edge of the serving dish to sop up all the liquid. Put out toothpicks for serving.
Recipe created by Parties That Cook®
Serves/Makes
Makes 60 miniature meatballs