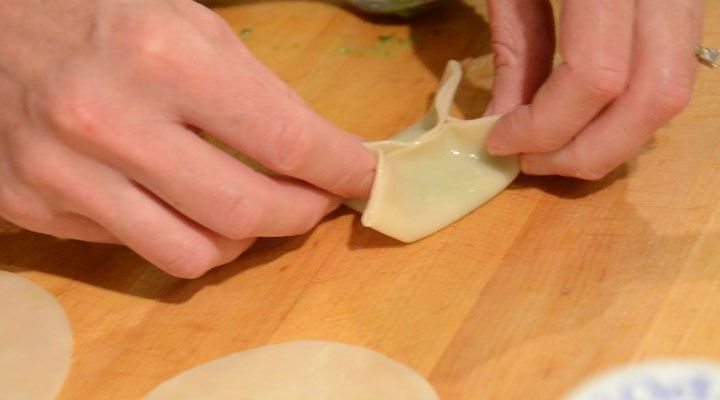 Pork and Shrimp Dumplings with Sesame Chili Oil Dipping Sauce Recipe
Ingredients
Dumplings:
1 pound peeled and deveined shrimp, finely chopped
6 ounces ground pork
1/2 pound mushrooms, any kind, finely chopped
1/4 cup water chestnuts, finely chopped
1/2 small shallot, finely minced
2 Tablespoons cilantro, finely chopped + more for garnish if desired
2 Tablespoons green onion, finely chopped + more for garnish if desired
1 Tablespoon roasted peanuts, finely chopped
1 egg yolk
1 Tablespoon fish sauce
1 Tablespoon oyster sauce
1 Tablespoon sesame oil
1 Tablespoon sesame seeds
1/8 teaspoon freshly ground black pepper
1/2 teaspoon kosher salt

60 square won ton wrappers
Cornstarch to dust sheet pan
1/4-1/2 cup canola to pan fry
Sesame Chili Oil Dipping Sauce:
2 Tablespoons chili paste (like sambal)
1/2 cup light soy sauce
2 Tablespoons sesame oil
2 Tablespoons water
Methods/Steps
Prepare the Filling: Finely chop the shrimp and place into a medium bowl. Add the pork. Chop all of the vegetables as directed, and add to the shrimp and pork. (Alternatively, you can pulse ingredients in a food processor. Do not puree.) Stir in the egg yolk, fish sauce, sesame oil and seeds, salt and pepper.
Pro Tip: Test for Seasoning. To do a taste test without consuming raw meat, make a few small balls of prepped filling. Heat a small sauté pan over medium heat and add a little oil. When shimmering, add a few little meatballs. When cooked, taste for flavoring and adjust with salt, pepper, or any ingredient that seems to be lacking.
Assemble Dumplings: Put 6 won ton wrappers on a dry surface. Pro Tip: Leave remaining wrappers in package. Cover with a damp towel to prevent drying and cracking. Spray lightly with water using a spray bottle, focusing on edges, or brush all edges with a wet pastry brush. Mound about 1 heaping teaspoon of filling in the center of each wrapper. Gather the four corners of each wrapper and seal into a point. Make sure all seams are securely sealed. Place on a tray dusted with cornstarch. (If you have someone helping you make these, feel free to move to the next step as soon as you have about 6 dumplings assembled.)
Fry/Steam Dumplings: Working in batches, in a large sauté pan with a lid (nonstick pans work well), heat 2 tablespoons of the canola oil over moderately high heat until hot, but not smoking. Fry dumplings flat-side down until the underside is golden brown, about 1 minute. Add ¼ cup of water per batch, pouring gently down the side of sauté pan. Be careful as it may splash! Cover pan and steam dumplings over moderately low heat until cooked through, about 2 minutes. Remove lid and cook dumplings until water is evaporated. Replenish oil after each batch.
Make Sauce: In a small bowl, whisk the chili paste, soy, sesame oil and water. Set aside.
Serve: Pour dipping sauce into a bowl. Place dumplings on a platter, and garnish with chopped cilantro &/or scallions, if desired. Serve warm.
Recipe created by Parties That Cook®
Serves/Makes
Makes 60 Dumplings