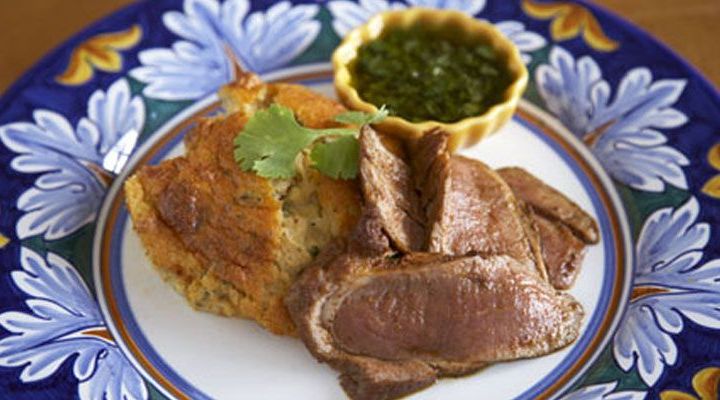 Pork Tenderloin with Shallot Cherry Confit Recipe
Ingredients
Pork and Brine:
8 cups water
3/4 cup sugar
3/4 cup kosher salt (or 6 Tablespoons table or sea salt)
1 teaspoon black pepper, crushed
3 cloves of garlic, peeled and smashed
1 bay leaf, crumbled
2 pork tenderloins, trimmed of fat and silver skin
Pork Tenderloin Crust:
Canola oil
2 Tablespoons Dijon mustard
1 Tablespoon minced rosemary
2 Tablespoons plus 1 teaspoon minced thyme
2 teaspoons kosher salt
2 teaspoons ground black pepper
Sauce:
1 Tablespoon butter
2 shallots sliced
1 Tablespoon sugar
2 Tablespoons red wine vinegar
1/3 cup red wine
1/2 cup veal demi-glace
2 cups veal stock or low-sodium chicken broth, reduced to 1/2 cup
1 sprig rosemary
1/4 cup dried cherries, coarsely chopped (can substitute dried black currants)
1/2 teaspoon kosher salt
Rosemary sprig for garnish
Methods/Steps
Preheat the oven to 425°F.
Brine: Pour the water in a bowl. Add the sugar, and salt. Mix until dissolved. Add peppercorns, garlic and bay leaf; stir to combine. When the salt and sugar are dissolved, add the pork tenderloins. Cover the bowl with plastic wrap and refrigerate until fully seasoned, about 20 to 30 minutes. Remove the pork from the brine, pick off the spices and dry the pork thoroughly with towels. Set aside.
Prepare and Brown Tenderloins: In a large sauté pan, heat 1 Tablespoon of canola oil until very hot; sear the tenderloins until golden brown. Turn them over and brown on the under side. Transfer to a sheet pan. If doing more than one batch, pour off the excess fat after searing each batch. When done searing the meat, reserve the pan for the sauce.
Herb Crust: Using a pastry brush evenly spread the mustard over the pork. In a small bowl, combine the minced rosemary with the thyme and salt and pepper. Dip the pork in herb mixture to make a crust. Set aside until ready to roast.
Sauce: Using the reserved pork pan from step one, heat the pan and butter. Add the shallots and the sugar and cook over moderate heat until the shallots are translucent. Add the red wine vinegar and cook for 1 minute. Add the red wine and cook, shaking the pan frequently, until the sugar dissolves and the wine is reduced by half, about 5 minutes. Stir in the demi-glace, stock and rosemary sprig and simmer over moderate heat until reduced to 1 cup, about 15 minutes. Add the dried cherries and simmer over low heat just until softened, about 5 minutes. Add salt. Discard the rosemary sprig.
Roast Meat: Cook meat about 10 minutes or until a meat thermometer reads 145°F (for medium rare).
To Serve: Serve meat with 2 Tablespoons of sauce and a sprig of rosemary.
Recipe created by Parties That Cook®
Serves/Makes
Serves 8