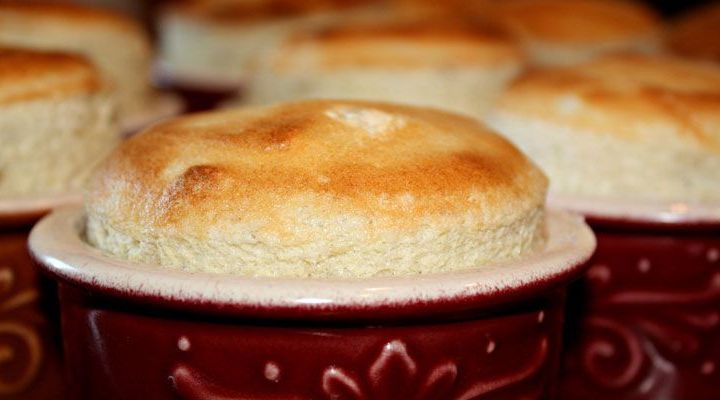 Potato, Bacon and Roquefort Soufflés
Ingredients
Soufflé:
2 ½ pounds large Russet potatoes, peeled and sliced
1 Tablespoon kosher salt
3 ounces bacon, about 3 slices
1 cup heavy cream
5 ounces unsalted butter, divided
4 ½ ounces grated parmesan, about 1 cup, divided
6 eggs, separated
3 ounces Roquefort, crumbled
1 Tablespoon fresh thyme leaves, chopped
1 bunches fresh chives, chopped
1/4 teaspoon freshly ground black pepper
Hand mixer
Foil or ceramic ramekins
Methods/Steps
Start Cooking Potatoes: Add the sliced potatoes and salt to a large stock pot of water. Bring to a boil over high heat and cook until completely tender, about 15 minutes. Drain into a colander.

Cook Bacon: Preheat the oven to 400O F. Place bacon on a cooling rack then place onto a parchment lined sheet pan. Cook until crisp, about 12 minutes and let cool. Once cool, chop into 1/4" bits and transfer to a small bowl. Set aside.

Mash Potatoes: Using a food mill or ricer, mash the warm potatoes into a large bowl. Heat the cream and 4 ounces of butter in a sauce pan. When hot, pour over the mashed potatoes and stir to combine.

Prepare Ramekins: Grate the parmesan cheese. Place 3/4 cup of the cheese into the bowl of mashed potatoes. Butter the ramekins with the remaining butter. Dust the sides of the ramekins with the remaining grated parmesan cheese. Tap out the excess into the bowl of mashed potatoes. Place dusted ramekins onto a parchment lined sheet pan.

Separate and Beat Eggs: Separate eggs and place yolks into medium bowl and whites into a large bowl. Remove a 1/4 cup of yolks (about 2) and stir into the potatoes and give the remaining 4 yolks to the dessert team. Whip the egg whites with a hand mixer to soft peaks and set aside.

Make Soufflé Base: To the bowl of potatoes, mix in Roquefort, chopped bacon, thyme and chopped chives and pepper. Mix well.

Finish Soufflé: Gently fold 1/3 of the whipped egg whites into the mashed potato mixture. When incorporated, fold in the remaining egg white. Taste and add some salt if necessary. Fill each ramekin evenly and bake until golden and puffed, about 20 minutes. Let cool slightly and unmold soufflés onto dinner plate.
Recipe created by Parties That Cook®
Serves/Makes
Makes about 12 Soufflés