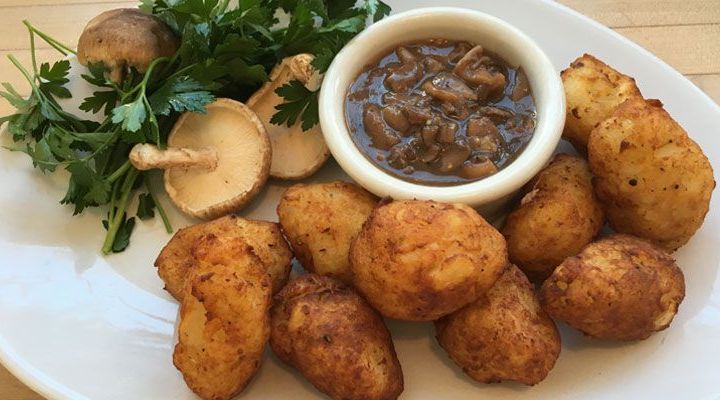 "Poutine"- Potato and Cheese Poppers with Mushroom Gravy Recipe
Ingredients
Potatoes:
7 medium russet potatoes
Poppers:
⅓ cup all-purpose flour
1 Tablespoon kosher salt
1 teaspoon black pepper
1 teaspoon white wine vinegar
8 ounces smoked mozzarella cheese, cut into small cubes
1 quart fryer oil
Mushroom Gravy:
2 Tablespoons olive oil
1 pound mushrooms (cremini, shitake or oyster), chopped
2 teaspoons salt
¼ teaspoon black pepper
4 garlic cloves, minced
½ cup red wine
1 Tablespoon tamari
1 Tablespoon balsamic
2 Tablespoons butter
2 Tablespoons all-purpose flour
1½ cups water
Methods/Steps
Potatoes: Preheat the oven to 400°F. Line a sheet pan with foil and set aside. Pierce each potato several times with a fork, and place on the sheet pan. Bake for about 40 minutes. Once the potatoes have cooled, cut lengthwise and scoop out the flesh into a mixing bowl. Set aside.
Making the Poppers: Take the potato flesh and mix with the flour, salt, pepper and vinegar. Line a baking sheet with parchment paper. Take a small amount of the potato and flatten it in the palm of your hand. Place a cube of mozzarella in the center, then gently fold the potato around the mozzarella forming a cylinder. Make sure all the cheese is covered with potato, and place on the sheet pan. Continue until all the potato and cheese are gone.
Frying the Poppers: Using a deep pan, fill with the fryer oil. Using a candy thermometer heat the oil to 375°F. In batches, carefully add the poppers to the hot oil. Once brown, about 4 minutes, remove with a spider or slotted spoon, and cool on a rack lined with paper towels. Toothpick the poppers before serving.
Make the Gravy: In a sauté pan, heat the olive oil and add the mushrooms, salt and pepper, cook until browned. Add the garlic and cook for 1 minute. Add the red wine, and let it reduce until it is almost dry. Add the balsamic, tamari, butter and cook until the butter is melted. Add the flour and cook for 1 minute. Stir in the water, cook until thickened, approximately 2 minutes. Add water in tablespoons if mixture appears too thick. Press through a strainer with a ladle. Pour gravy into a serving bowl, and serve alongside the poppers.
Recipe created by Parties That Cook®
Serves/Makes
Makes 24