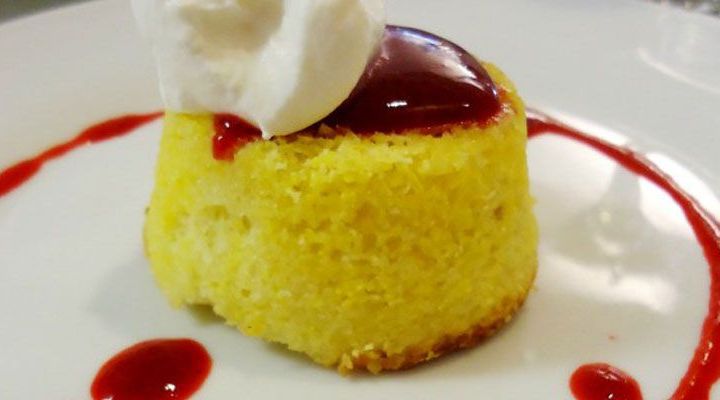 Quatro Leches: Sponge Cake with Four Milks and Fresh Strawberries Recipe
Ingredients
Cake:
1 Tablespoon melted butter (to butter ramekins)
2 cups flour
1 1/2 teaspoons baking powder
3 room-temperature eggs, separated
1 cup sugar
1 teaspoon vanilla extract
1/4 cup milk
1/4 teaspoon kosher salt
4 Milks:
1 cup heavy cream
1 14-ounce can sweetened condensed milk
2 cups evaporated milk
1 cup canned coconut milk
2 teaspoons vanilla extract
1/4 teaspoon kosher salt
Garnish:
Sliced strawberries
Mint
Methods/Steps
Prepare ramekins: Preheat oven to 325ºF. Butter 12 ramekins and set aside.
Cake: Combine flour and baking powder in a medium bowl and set aside. Beat egg whites in a large bowl with an electric mixer on medium speed until soft peaks form, 2-3 minutes. Increase speed to high and gradually add the sugar, beating until the whites are glossy, 1-1 1/2 minutes, then beat in the yolks one at a time. Add the vanilla and salt. With a wooden spoon, stir in half of the flour mixture, then the 1/4 cup of milk and the remaining flour mixture. Stir until smooth (but don't over mix or it will make the cake tough). Pour 1/4 cup of the batter into the ramekins (the ramekins won't look full but that is ok since the cake rises a lot). Bake until a toothpick inserted into the center of each cake comes out clean. Set aside to cool for 5 minutes.
Milks: Combine the cream, condensed, evaporated and coconut milks. Stir and add the vanilla and salt. Prick each cake about 10 times with a toothpick and then slowly pour milk mixture over the warm cakes. Let cakes sit for 10 minutes then repeat until all milk is used. If time permits, cakes are best if allowed to sit several hours to fully absorb the milk mixture.
Additional Tips
Serve: Serve cakes garnished with sliced strawberries and mint.
Recipe created by Parties That Cook®
Serves/Makes
Serves 12