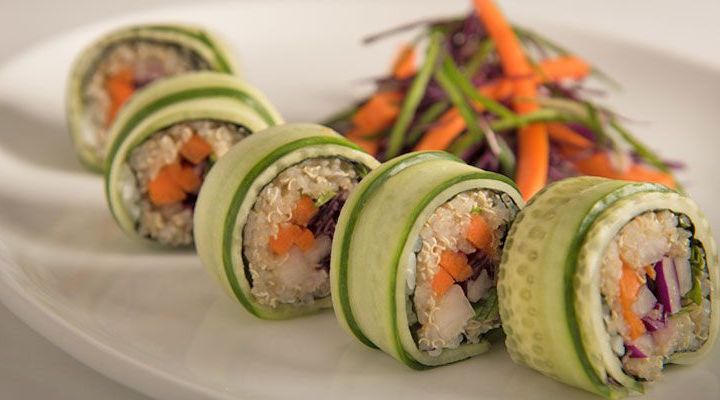 Quinoa-Cucumber Sushi Rolls with Cabbage, Carrots, Daikon and Shiso Recipe
Ingredients
Quinoa:
1½ cups quinoa
1⅔ cups water
½ cup rice vinegar
2 Tablespoons sugar
1 teaspoon salt
Miso Dressing:
2 Tablespoons miso
2 Tablespoons sesame oil
½ cup rice vinegar
6 Tablespoons olive oil
1 teaspoon tamari
Vegetable Filling:
¼ purple cabbage, thinly sliced
1 carrot, peeled and julienned
2 inches daikon, peeled and julienned
2 shiso leaves, julienned
2 English cucumbers, cut in ½ then thinly sliced
4 sheets nori
Methods/Steps
Cook the Quinoa: Rinse the quinoa. Place quinoa and water in a pot with a fitted lid, or rice cooker. Bring to a boil, cover and cook for 12-15 minutes. Remove from the heat, and place in a mixing bowl.
In a small bowl, add the rice vinegar, sugar and salt. Mix until everything has dissolved. Using a rubber spatula, gently fold the vinegar mixture into the cooked quinoa. Set aside.
Make Miso Dressing: In a mixing bowl, add the miso, sesame oil, rice vinegar, olive oil and tamari. Mix together and set aside.
Make the Filling: Toss the cabbage, carrot and daikon in a bowl with the miso dressing. Set aside.
Place a sushi mat on a cutting board with the bamboo planks running vertically. Line the sushi mat with the strips of cucumber vertically, with a slight overlap. Lay a sheet of nori on top of the cucumbers. Using the rubber spatula, carefully spread about ¾ cup of the quinoa over the nori. In the middle of the quinoa, lay a horizontal row of the miso-marinated vegetable filling. Sprinkle with 1 teaspoon of julienned shiso.
Lift the end of the mat, and carefully roll it over the vegetables, pressing gently. Keep pulling the mat to while rolling to help form the roll. Once formed, remove from the mat to the cutting board. Continue until all rolls have been shaped. Cut the rolls in half, then each half in thirds. Serve.
Recipe created by Parties That Cook®
Serves/Makes
Serves 8