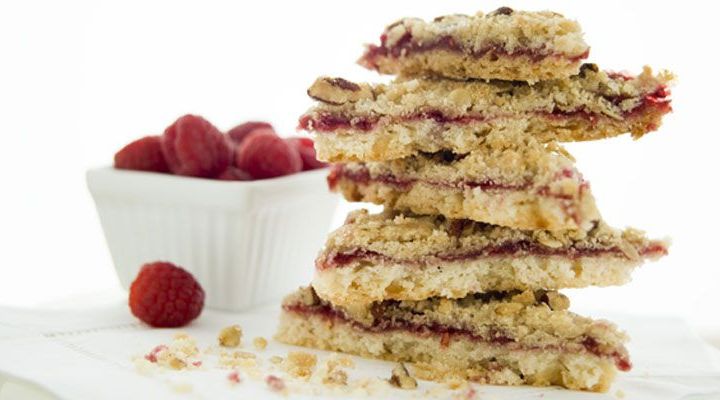 Raspberry Streusel Bars
Ingredients
Crust:
3 1/4 cups all purpose flour
1 cup granulated sugar
1 ¼ teaspoons kosher salt
3 sticks unsalted butter (12 ounces), room temperature, cut into 1/2 inch cubes
Parchment paper
Baking spray
Streusel and Filling:
1/3 cup packed brown sugar
3/4 cup rolled oats
3/4 cup pecan pieces, finely chopped
3 Tablespoons butter, room temperature, cut into cubes
1 1/4 cups raspberry preserves
1 pint fresh raspberries or 1 1/2 cups strained frozen fruit (can sub strawberries, blueberries, blackberries)
1 Tablespoon lemon juice
¼ teaspoon kosher salt
Methods/Steps
Make Crust: Preheat oven to 400ºF. In the bowl of a food processor, process flour, granulated sugar, and salt until combined, about 5 seconds. Scatter the butter pieces over flour mixture and pulse until mixture resembles damp sand, about twenty 1-second pulses. Remove 1/3 of crust mixture into medium bowl and set aside. Line a half sheet pan with parchment paper and apply baking spray. Using hands or flat-bottomed measuring cup, firmly press the remaining 2/3's of the mixture into even layer to form bottom crust. Bake until edges begin to brown, 12-15 minutes.
Prepare Streusel: While crust is baking, add brown sugar, oats, and nuts to reserved crust mixture; toss to combine. Work in the butter by rubbing mixture between fingers until butter is fully incorporated. Pinch mixture with fingers to create pea-sized clumps; set streusel aside.
Make Filling: Combine preserves, berries, lemon juice and salt in small bowl; mash with fork until combined but some berry pieces remain.
Assemble Bars: Spread filling evenly over hot crust; sprinkle streusel topping evenly over filling (do not press streusel into filling). Return pan to oven and bake until topping is deep golden brown and filling is bubbling, 18 minutes. Cool slightly in refrigerator. Using chef's knife, cut into squares and serve.
Recipe created by Parties That Cook®
Serves/Makes
Makes 48 Squares