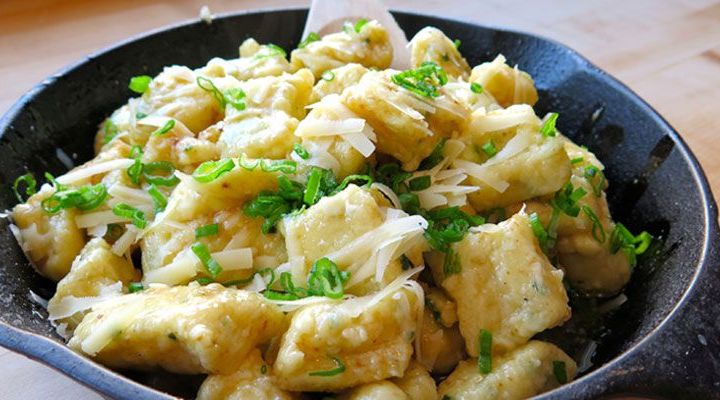 Ricotta Gnocchi with Brown Butter and Lemon Recipe
Ingredients
Gnocchi:
15 ounces ricotta cheese, drained
1 cup Parmigiano-Reggiano, plus some for garnish
2 eggs
¼ teaspoon freshly ground black pepper
1 teaspoon kosher salt
1 cup all-purpose flour, plus extra for rolling and holding
1 bunch chives, finely chopped and some reserved for garnish
Olive oil
Browned Butter Sauce:
½ cup unsalted butter
1 teaspoons kosher salt
1 lemon, juiced
Grated Parmigiano-Reggiano, for garnish
Methods/Steps
Prepare Pot: Bring a large pot of heavily salted water to a boil.
Make Batter: In a large bowl, combine the ricotta, parmesan, eggs, salt, and pepper. Add flour and chives.
Rolling Gnocchi: Roll the gnocchi mixture in a long rope on the work surface. Carefully cut into 1 inch pieces. Gently press your thumb into each piece while wrapping the dough around to form gnocchi. It can also be rolled down the twines of a fork to create ridges.
Cooking Gnocchi: Drop the formed gnocchi into the boiling water in batches. Once they start to float, about 2 minutes, remove with a spider or slotted spoon, and put a sheet pan coated with olive oil. Continue to do this until all are cooked.
Make Sauce: Melt butter in a large sauté pan over medium-high heat, stirring occasionally, until lightly browned and bubbles subside, about 5 minutes. Add gnocchi and salt to the pan. Toss to coat completely. Add lemon juice once the butter has browned, toss again and taste. Serve warm garnished with some grated parmesan.
Recipe created by Parties That Cook®
Serves/Makes
Serves 8