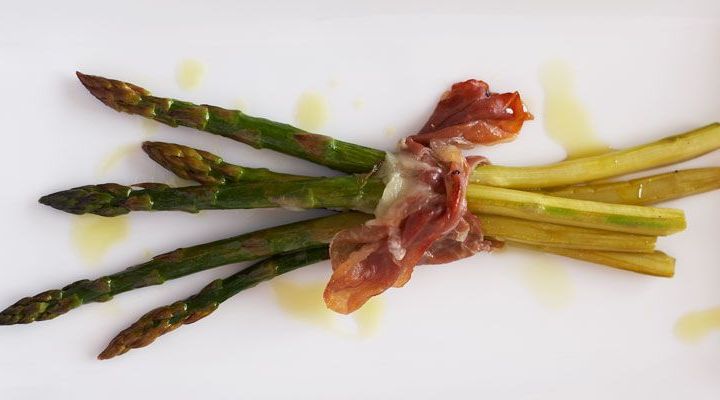 Roasted Asparagus Bundles with Fontina and Prosciutto Recipe
Ingredients
2 pounds fresh asparagus
2 Tablespoons melted butter
1 Tablespoon extra-virgin olive oil
1 teaspoon lemon juice
3/4 teaspoon kosher salt
Pinch of freshly ground pepper
1 cup (about 6 ounces) grated Fontina cheese
8 slices (about 1/4 pound) prosciutto
Leeks or parsley (if a vegetarian in the group)
Methods/Steps
Preheat oven to 450°F.
Roast Asparagus: Trim tough ends off the asparagus (about 1 1/2 inches from the bottom of the stalk). Transfer the asparagus to a medium bowl and add the melted butter, olive oil, lemon juice, salt and pepper. Toss to coat thoroughly. Transfer the asparagus to a sheet pan. Spread evenly in one layer. Roast until tender, about 10 minutes, stirring once with tongs to ensure they cook evenly. Remove from the oven and let cool slightly. Turn the oven to broil.
Grate Fontina: Grate the Fontina and set aside in a bowl.
Assembly: Lay a slice of prosciutto horizontally on a work surface. Put 4 stalks of asparagus, vertically, on top. Across the equator of the stalk, sprinkle 2 Tablespoons of Fontina. Wrap the prosciutto around the Fontina. (The spears should peak out the top and the base of the stalk out the bottom). Brush the prosciutto with olive oil. Place bundles on a sheet pan.
Reheat: A few minutes before ready to serve, transfer the sheet pan to the broiler and broil until the asparagus sizzles and the cheese melts, about 3-5 minutes. Remove from oven and serve immediately.
Recipe created by Parties That Cook®
Serves/Makes
Serves 8