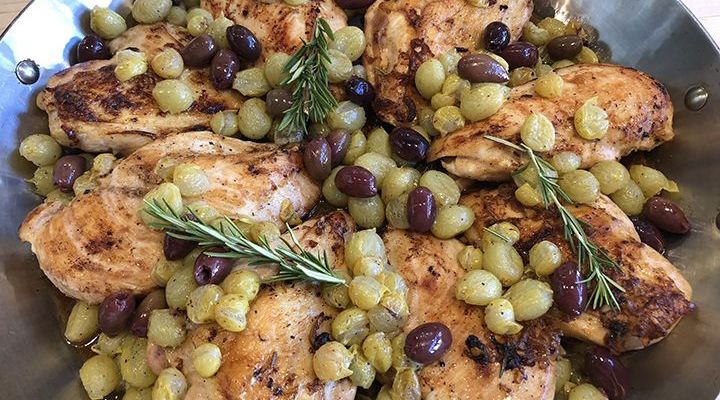 Roasted Chicken with Grapes, Olives and Rosemary
Ingredients
Chicken Brine:
2 quarts water
½ cup sugar
½ cup kosher salt
2 garlic cloves, smashed
1 sprig rosemary, smashed
1 teaspoon black peppercorn, coarsely smashed
8 6-ounce boneless chicken half breasts, skin on
Brine Chicken: Preheat the oven to 425°F. Mix water, sugar, salt, garlic, rosemary and black peppercorns. Immerse the chicken in the brine and refrigerate for ½ hour-1 hour. Remove from brine and pat dry.
Roasted Chicken
2 pounds red or green seedless grapes
½ cup Kalamata olives, dried and pitted
¼ cup olive oil, divided plus some extra for searing
1 Tablespoons kosher salt, divided
1 teaspoon ground black pepper, divided
Brined chicken from above (can sear Sweet Potato wedges for vegetarians)
1 shallot, sliced thin
2 garlic cloves, minced
½ cup dry white wine
½ cup chicken stock (can sub vegetable stock for vegetarians)
2 sprigs fresh rosemary, plus extra for garnish
Methods/Steps
Wash Grapes: Remove the grapes from the stems, wash well and pat dry. Toss the grapes and the olives in half of the olive oil, salt and pepper. Transfer to a roasting pan or a sheet pan and place into the oven. Roast for 10 - 15 minutes, then remove pan(s) from the oven

Brown Chicken: Season the chicken breasts with the remaining olive oil, salt and pepper. Working in batches, place a large sauté pan(s) over medium high heat. Add about a tablespoon of oil to the pan. When the oil is hot and shimmering, add the chicken, skin side down, and brown well, about 2 minutes per side (do not burn pan). As the pieces brown, nestle them into the pan(s) with the grapes and olives.

Deglaze Sauté Pan(s): When the chicken is browned, add another tablespoon of oil to the pan. Add the shallots and sauté until translucent. Add the garlic and sauté for another minute, deglaze the pan with the wine and scrape all of the golden bits from the bottom of the pan. When all of the bits are melted from the bottom of this pan add the stock and simmer for 2 minutes. Drizzle the liquid over the chicken. Place a couple sprigs of rosemary into the pan and place pan in the oven for 10 more minutes or until the center of the chicken breasts reach 165oF.

Serve: Transfer the chicken to a plate or platter. Spoon the grapes and olives around the chicken and drizzle a little of the sauce from the roasting pan over the chicken. Garnish with a sprig of fresh rosemary and serve.
Recipe created by Parties That Cook®
Serves/Makes
Serves 8