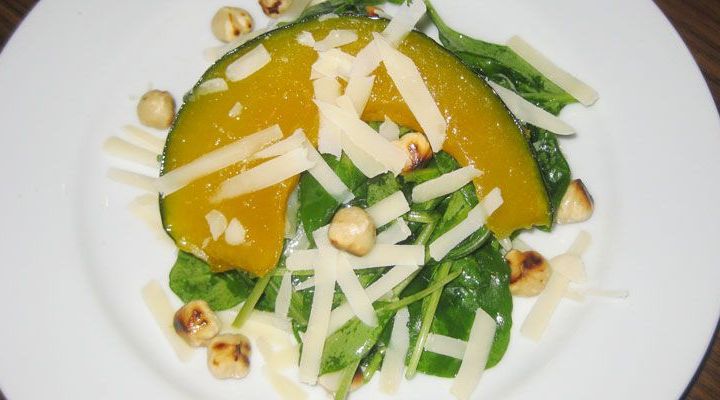 Roasted Kabocha Squash and Arugula Salad with Toasted Hazelnuts Recipe
Ingredients
Kabocha Squash:
1 kabocha squash
2 Tablespoons olive oil
1/4 cup maple syrup
2 teaspoons kosher salt
Arugula Salad:
2 Tablespoons sherry vinegar
1/2 lemon, juiced
1 teaspoon Dijon mustard
1 shallot clove, peeled and minced
1 teaspoon sugar
2 teaspoons kosher salt
1/8 teaspoon ground black pepper
3 Tablespoons hazelnut oil
1/2 cup olive oil
1/2 cup hazelnuts, peeled
1 pound arugula (can substitute watercress or spinach)
6 oz. Ricotta Salata, grated
Methods/Steps
Preheat oven to 425°F.

Slice Squash: Cut the squash in half and remove the seeds using a large metal spoon. Cut each half, skin on, into 1 inch thick slices. Place slices into a large bowl and toss well with the olive oil and salt.
Roast Squash: Transfer the squash to a sheet pan(s), placing in a single layer, and roast until the squash is tender and starting to brown, about 20 minutes. During the last 10 minutes of roasting the squash, brush slices with the maple syrup. Roast until squash is done. Remove from oven, cover with foil and keep warm until service.
Make Vinaigrette: Mix the sherry vinegar, lemon juice, mustard, shallot, sugar, salt and pepper in a mixing bowl and let sit for 5-10 minutes. Slowly pour in the hazelnut and olive oils while whisking vigorously to emulsify.
Toast Hazelnuts: Spread hazelnuts on a sheet pan and toast in the oven until lightly browned.
Serve: Reheat squash if necessary. Then, brush the squash with half of the vinaigrette. Just before serving, toss the arugula in a large bowl with the rest of the vinaigrette. Top each salad with some squash and hazelnuts . Using a rasp, generously grate the Ricotta Salata on top of each salad. Serve.
Recipe created by Parties That Cook®
Serves/Makes
Serves 12