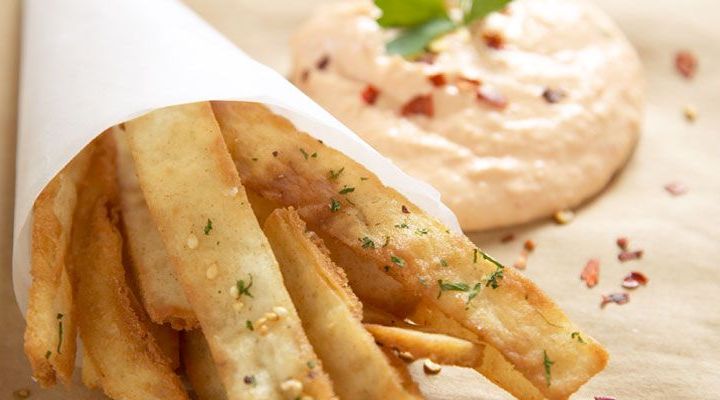 Roasted Red Bell Pepper Puree with Toasted Walnuts and Baked Pita "Fries" Recipe
Ingredients
Roasted Red Bell Pepper Puree (Makes 2 1/2 cups of dip):
3 red bell peppers (about 1 pound)
1 six-inch piece pita bread
1 large garlic clove
3/4 cup walnut pieces, toasted, plus more for garnish
1 1/2 teaspoon smoked paprika, plus more for garnish
1 teaspoon ground cumin
1 Tablespoon + 1 teaspoon pomegranate molasses
1 Tablespoon freshly squeezed lemon juice
1 Tablespoon extra-virgin olive oil, plus more for garnish
1 1/2 teaspoons kosher salt
1/4 teaspoon freshly ground black pepper
Pita Fries:
6 pieces of pita bread, 8 inches in diameter (one package)
1/2 cup extra-virgin olive oil
2 Tablespoons cumin seeds
2 teaspoons kosher salt
1/2 teaspoon freshly ground black pepper
Methods/Steps
Preheat oven to 375ºF.
Roast Peppers: Roast the bell peppers over a gas burner until blackened all over, turning with tongs as each side is blistered. (Alternatively, place under broiler). Transfer to a bowl and cover with plastic wrap. Let stand about 15 minutes. Peel and discard skins, stems and seeds. Set peppers aside.
Make Dip: Combine bell peppers, pita, garlic and walnut pieces in bowl of food processor and blend for about 30 seconds. Add paprika, cumin, pomegranate molasses and process until smooth, about 30 more seconds. Add lemon juice, olive oil, kosher salt and black pepper. Pulse until combined. Taste and re-season if necessary. Transfer puree to a serving platter, drizzle with a some extra virgin olive oil, a few chopped walnuts and some paprika.
Make Pita "Fries": Using scissors, cut off the edge around the circumference of each pita. Split the pita into two round circles. Stack all of the pita circles, cut them in half and then into thin strips about a 1/2 inch wide. Place strips into a large bowl.
Bake Pita "Fries": Drizzle the olive oil into the bowl of pita and add the cumin seeds, salt and pepper. Toss well to coat the pita strips well with the oil and spices. Turn out the "fries" onto a sheet pan(s) and bake until crispy and golden, about 10 minutes. Serve with the puree.
Recipe created by Parties That Cook®
Serves/Makes
Serves 24