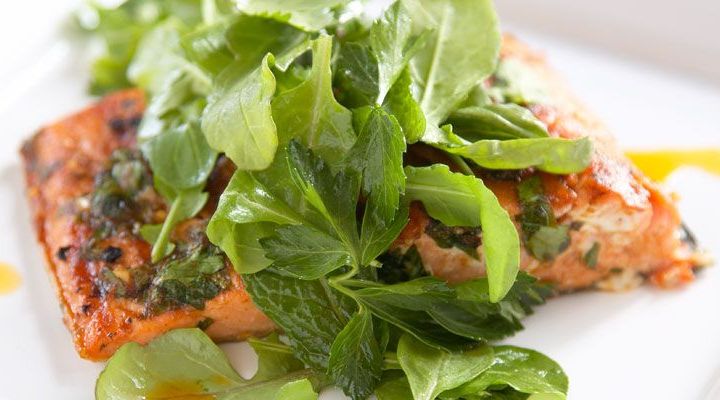 Salmon Sous Vide with Mustard-Tarragon Beurre Blanc Recipe
Ingredients
Salmon:
1/2 cup extra-virgin olive oil
3 cloves garlic, minced
1/4 cup flat-leaf parsley leaves, chopped
2 Tablespoons tarragon, chopped + 8 sprigs for garnish
2 teaspoons kosher salt
1/4 teaspoon pepper
8 six-ounce center cut filets of salmon, skin off, pin bones removed
Ice cubes to maintain water bath temperature
Vacuum sealer and bags
Mustard Tarragon Beurre Blanc:
1 cup dry white wine
¼ cup vermouth
3 shallots, sliced thin
1/2 cup heavy cream
2 Tablespoons Dijon mustard
1/4 cup unsalted butter (1/2 stick), cut into small cubes and kept cold
2 Tablespoons tarragon, chopped
2 Tablespoons chives, chopped
1 teaspoon lemon zest
1 teaspoon lemon juice
1 teaspoon kosher salt
Methods/Steps
Preheat a water bath to 160ºF. Keep a thermometer hooked to the water bath to ensure the temperature remains constant. Add ice cubes as needed to regulate temperature.
Salmon: Combine the olive oil, garlic, parsley, tarragon, salt and pepper in a small bowl and pour over the salmon. Massage oil all over the salmon. Transfer the salmon to vacuum packing bags, 2 filets per bag, and seal using the food saver (or Seal-A-Meal). Submerge the bags in the water bath and set a timer for 12 minutes. Make sure the temperature remains constant!
Make Sauce: In a small sauce pan, combine the wine, vermouth, and shallots. Bring to a boil and reduce by half. Add the cream and bring to a boil. Add the Dijon and whisk to combine. Turn the heat to low or simmer and slowly add the cold butter one cube at a time, whisking constantly. Once the butter has melted add another cube and whisk. Repeat until all of the butter has been incorporated. Strain the sauce into a small bowl, cover with plastic wrap and place over a low simmering pot of water until ready to serve. When ready to serve add the chopped herbs, lemon zest/juice and salt.
Serve: Remove the filets from the bags and place on the serving plate. Spoon some of the mustard sauce onto each filet and garnish with a sprig of tarragon.
Recipe created by Parties That Cook®
Serves/Makes
Serves 8