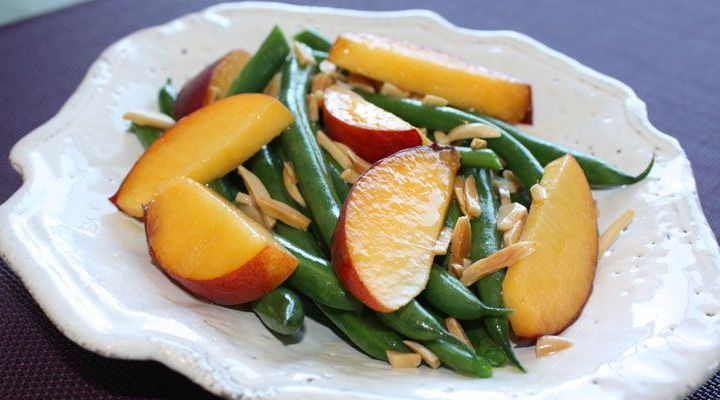 Sautéed Green Beans with Fresh Apricots and Toasted Almonds Recipe
Ingredients
Green Beans:
2 pounds green beans, trimmed
4 fresh apricots
2 Tablespoons extra-virgin olive oil
2 Tablespoons unsalted butter
1/8 teaspoon crushed red pepper flakes
1/3 cup slivered almonds
2 cloves garlic, minced
2 teaspoons kosher salt
2 Tablespoons basil, cut into chiffonade or thin ribbons, plus extra for garnish
Methods/Steps
Blanch Beans: Working in batches; blanch the green beans in a stock pot of boiling, salted water until just crisp-tender, about 3-5 minutes. Do not cover the pot. Remove beans to a colander.
Slice Apricots and Basil: Cut the apricots in half, remove the pit and slice each half into 1/4 inch wedges. Set apricots aside. Pick the leaves from the basil stem and stack them from largest to smallest. Roll the leaves up into a thin cigarette and thinly slice the roll. Set basil aside.
Sauté Ingredients: Melt the olive oil with the butter in a large sauté pan set over medium heat. Add the red pepper flakes and almonds and sauté until they just start to turn a little golden, about 30 seconds. Add the garlic and sauté until it just starts to turn light gold. Add the green beans then salt. Turn the heat to high. Sauté until beans start to pop, sizzle and turn brown in spots, about 3-5 minutes depending on how full the sauté pan is. Turn heat off and toss in the apricots and basil. Serve immediately at room temperature.
Recipe created by Parties That Cook®
Serves/Makes
Serves 8