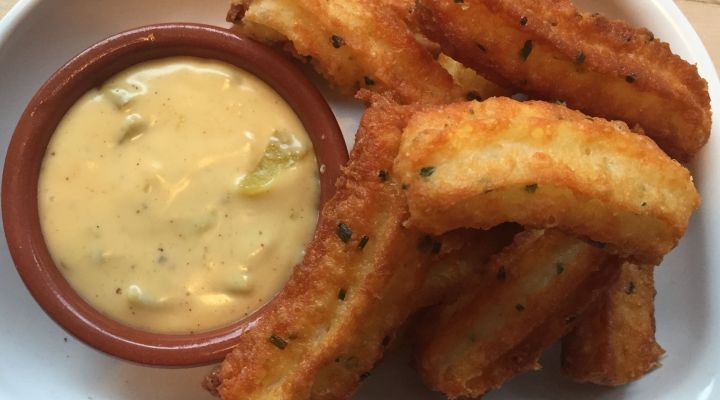 Savory Churros with Nacho Cheese Dipping Sauce
Ingredients
Churros:
4 Tablespoons (2 ounces) unsalted butter
3/4 cup water
½ teaspoon sugar
½ teaspoon kosher salt
¾ cup AP flour
1 egg
¼ cup parmesan, grated
½ bunch chives, minced
Oil for frying
Make the Churros: Using a heavy bottom pot, fill with fryer oil and heat to 350°F. Line a sheet pan with paper towel, and set aside.
In a medium size pot, heat the water and butter over medium heat until the butter has melted. Whisk in the salt and sugar, then whisk in the flour. Cook on the heat for about a minute, whisking the entire time. Remove from the heat, then let the mixture cool for about 5 minutes. Then whisk in the egg(s), parmesan and chives. Remove from the pot, and put into a pipping bag with a large star tip. Pipe the churros, about 4 inches long, into the hot oil, do not crowd the pan. Use a knife to cut through the batter. Cook for about 4-5 minutes, or until the churro is golden brown. Remove with a spider onto the paper towel, and continue until all the batter has been fried. Platter to serve.


Nacho Cheese Sauce:
1 Tablespoon butter
1 Tablespoon flour
¼ cup milk
¼ cup half and half
¼ teaspoon garlic powder
¼ teaspoon onion powder
¼ teaspoon paprika
2 ounces canned green chilies, chopped
½ cup sharp cheddar cheese, grated
¼ teaspoon kosher salt
¼ teaspoon black pepper

Make the Nacho Cheese Sauce: Make the Nacho Cheese Sauce: Melt the butter in a sauce pan over medium heat. Whisk in flour, and let it lightly brown for about 1 minute. Whisking constantly, add the milk, and let it cook for about 1-2 minutes. Add the half and half, garlic powder, onion powder and paprika. Cook for another 2 minutes. Turn off the heat, add the green chilies and cheese and continue whisking until the cheese has melted. Whisk in the salt and pepper, then put in a serving to bowl and serve alongside the churros.

Recipe created by Parties That Cook®
Serves/Makes
24 churros