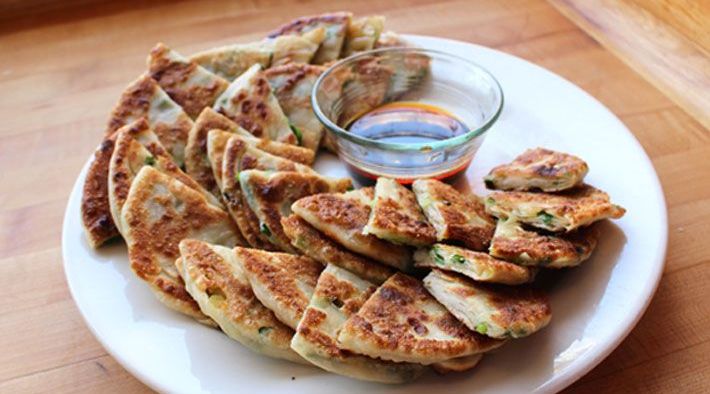 Scallion Pancakes, Hand-Rolled with Chili Oil and Tamari Dipping Sauce Recipe
Ingredients
Pancakes:
2½ cups AP flour, plus more for rolling
2 teaspoons kosher salt
1 Tablespoon sesame oil
1 cup water, boiling
⅓ cup vegetable or rice bran oil
2 bunches scallions, thinly sliced
Vegetable or rice bran oil for frying
Chili and Tamari Dipping Sauce:
½ cup rice wine vinegar
½ cup tamari
2 Tablespoons chili oil
1 teaspoon sugar
¼ teaspoon kosher salt
Methods/Steps
Make the Pancakes: In a mixing bowl, add flour and salt. Add sesame oil and boiling water. Mix until a dough forms. Turn out on a lightly floured surface, and knead for about 5 minutes. Adding flour if necessary to prevent sticking. Put back in the mixing bowl, cover with plastic and let the dough rest for 1 hour.
Divide the dough into the number of servings. On a lightly floured surface, take one portion and roll it into an approximate 7" diameter circle. Brush with oil, and sprinkle with 2 Tablespoons scallions. Roll the dough into a jelly-roll cylinder, then roll again to resemble a cinnamon roll spiral. Set aside the roll, cover with plastic wrap, and continue until all portions are rolled and shaped.
Re-flour the work surface, and roll out each portion to a 5" round. Start by flattening you're your hand then with a rolling pin. Brush with oil and set aside. Heat a sauté pan on medium high heat, with 1 Tablespoon of oil at a time, place the pancake in the pan. Brown on each side, about 1 minute on each side, and remove from pan. Stagger cooked pancakes on a sheet pan lined with parchment paper or a cooling rack. Continue until all pancakes have been cooked.
Make the Sauce: In a mixing bowl, whisk all the ingredients together. Pour into a sauce bowl.
Serve the Pancakes: Cut each pancake into quarters. Assemble on a platter and serve with the dipping sauce.
Recipe created by Parties That Cook®
Serves/Makes
Makes 16