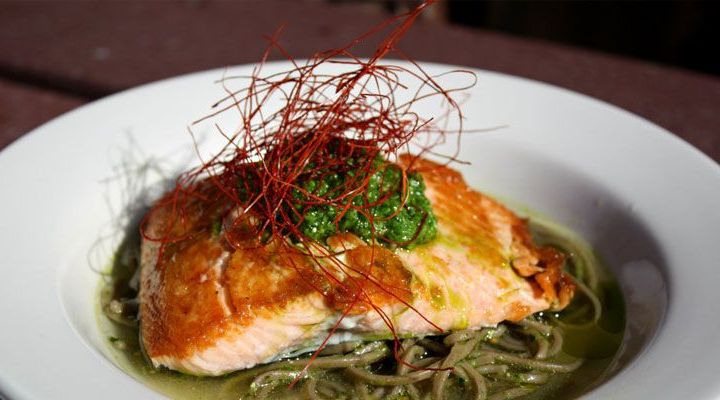 Sear-Roasted Salmon Filets with Ginger-Lime Sauce Recipe
Ingredients
Salmon:
3 1/2 lbs. filet of salmon, skin removed
Kosher salt and pepper
Glaze Mixture:
1/4 cup fresh lime juice (can substitute lemon juice)
1/2 cup rice wine vinegar
1/4 cup light soy sauce
1/4 cup light corn syrup
1 Tablespoon brown sugar
1/2 teaspoon of kosher salt
1/2 cup peanut oil
Herb Mixture:
3 Tablespoons grated ginger
2 Tablespoons finely minced garlic
1/2 cup chopped cilantro
1/2 cup green onions, sliced
1/4 cup chopped mint
3 red jalapeños, seeded and finely chopped
1 cup peanuts, coarsely chopped
1/4 cup peanut oil for pan-frying salmon
Methods/Steps
Preheat the oven to 425°F.
Salmon: Remove the pin bones from the salmon. Cut the salmon into six-ounce filets (either by slicing narrow pieces across the whole filet, or cutting the filet in half lengthwise first and then slicing square pieces). Set aside until ready to fry. Just before cooking, season generously with salt and pepper.
Glaze: In a medium non-reactive bowl, combine the lime juice, rice vinegar, soy sauce, corn syrup, brown sugar, and salt. Stir to mix and dissolve sugar and salt. Add peanut oil.
Herb Mixture: In another bowl, combine the grated ginger, minced garlic, chopped cilantro, chopped green onions, chopped mint, chopped jalapeno and the coarsely chopped peanuts.
Sear Salmon: Heat a large sauté pan over medium-high heat. Add 3-4 Tablespoons of peanut oil. (Oil should be about 1/8-inch high in the pan). Heat the oil over high heat until it is very hot. Presentation side down, add the 3-4 salmon filets to the pan (do not crowd the pan), and pan-fry until golden brown and crisp (about 3 minutes). Do not move the salmon around in the pan or the crust will not form. When an opaque pink rim about 1/2-inch-thick forms around the bottom edge of the salmon, gently transfer it to a sheet pan with the browned side up. Finish browning the remaining salmon filets.
Roast Salmon: Transfer sheet pan(s) with the seared salmon to the oven and finish cooking, about 8-10 minutes or until the white proteins begin to emerge from the fish. Salmon should still be rare (dark pink) in the center. Remove from the oven and cover loosely with foil to keep warm.
To Serve: Combine the herb and glaze mixtures right before ready to serve. Serve each piece of salmon with a generous spoonful (about 2 ounces) of sauce. Garnish with a sprig of cilantro.
Recipe created by Parties That Cook®
Serves/Makes
Serves 8