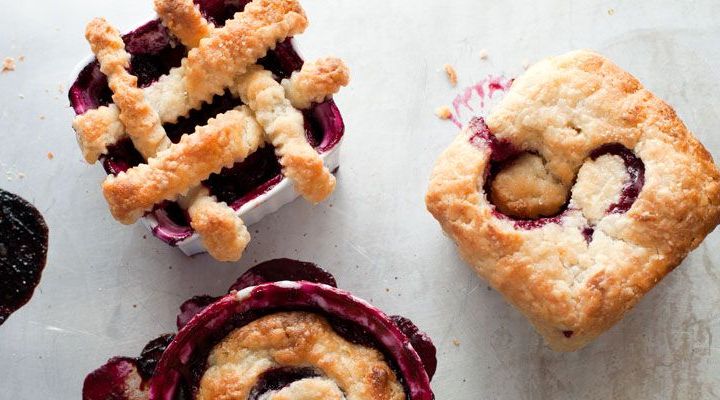 Seasonal Fruit Pot Pies Recipe
Ingredients
Cream Cheese Pastry Dough:
2 1/4 cups all-purpose flour, un-sifted
3 Tablespoons sugar
2 teaspoons lemon zest, finely grated
1/2 teaspoon kosher salt
8 ounces unsalted butter, cut into 1/2-inch cubes, chilled
8 ounces cream cheese, cut into 1/2-inch cubes, chilled
Fruit:
1/2 cup brown sugar
1/4 cup flour
1 teaspoon cinnamon
1/2 teaspoon nutmeg
1/2 teaspoon kosher salt
8 cups fresh fruit, cut into 1/2 inch pieces if necessary: blueberries, blackberries, raspberries, peaches, mango, apples and plums
1 Tablespoon lemon juice
2 teaspoons vanilla
2 Tablespoons butter
1/4 cup cream (for brushing dough right before baking)
2 Tablespoons coarse sugar, sprinkling over the pastry
Plastic wrap
Methods/Steps
Make Pastry Dough: Pulse the flour, sugar, lemon zest and salt in a food processor for a few seconds to mix ingredients. Scatter butter cubes over the flour mixture, and pulse until the mixture has the consistency of cornmeal. Scatter the cream cheese cubes over the mixture and process until ingredients just come together in a ball. Shape dough into 2 discs, about 3/4-inch thick. Wrap in plastic and freeze for 15 minutes in the freezer.
Make Fruit: Preheat oven to 375°F. Adjust rack to lower third of the oven. Place 12 ramekins on a sheet pan. In a large bowl, combine brown sugar, flour, cinnamon, nutmeg and salt. Add fruit, lemon juice and vanilla; gently toss to combine. Spoon about 1 cup of the fruit mixture into each ramekin; dot with a small pat of butter.
Roll Pastry Dough: Roll out one disc of pastry on a lightly floured surface until it is about 1/4-inch thick. Using a 4 1/2-inch round cutter, cut out dough circles that are just a bit larger than the ramekins. Set a pastry circle on top of each fruit-filled ramekin and gently press the pastry down into the ramekin around the edge. Repeat with second dough circle and remaining pot pies.
Bake Pot Pies: Using a pastry brush, apply a light coating of cream over the dough, and sprinkle coarse sugar over the top. Using a small pairing knife, make a couple of slits in the center of the pastry to allow steam to escape. Bake for 30 minutes, or until the pastry is golden and the fruit is bubbly. Serve warm or at room temperature.
Recipe created by Parties That Cook®
Serves/Makes
Serves 12