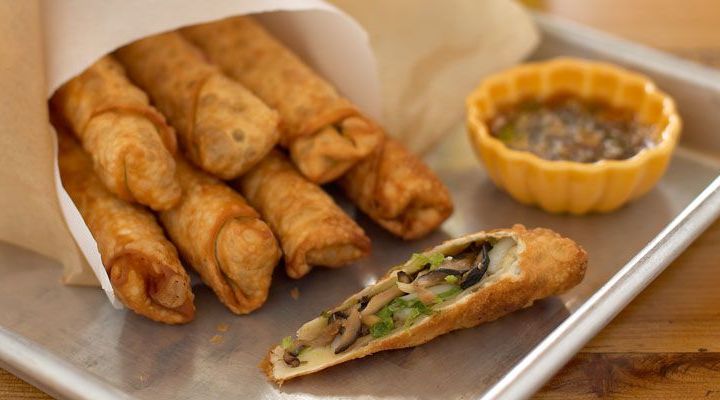 Shiitake Egg Rolls with Sake Dipping Sauce Recipe
Ingredients
Egg Rolls:
3 Tablespoons unsalted butter
1/2 pound oyster mushrooms, cut into ½ inch pieces
1/2 pound shiitake mushrooms, stems discarded, caps sliced 1/4 inch thick
1/2 pound crimini mushrooms, sliced ¼ inch thick
2 Tablespoons Shaoxing wine or dry sherry
2 Tablespoons soy sauce
1/2 teaspoon kosher salt
Pinch freshly-ground pepper
3 Tablespoons extra-virgin olive oil
2 cloves garlic, thinly sliced
1 plump lemongrass stalk, tender white inner bulb only, minced
1 red Thai chile, minced
1 medium shallot, minced
1 Tablespoon minced fresh ginger
1/2 teaspoon lemon zest, finely grated
12 thin egg roll or spring roll wrappers
1 large egg, beaten
4 cups canola oil for frying
Dipping Sauce:
1/2 cup sake
1/4 cup soy sauce
1/4 cup rice wine vinegar
1 Tablespoon sugar
1 small serrano chile, seeded and finely-chopped
1/4 teaspoon garlic, finely-minced
1/2 teaspoon ginger juice
1 Tablespoon green onions, white part only, finely-chopped
10 Boston lettuce leaves (from 1 head), halved, ribs removed, pat very dry
Toothpicks for serving
Plastic wrap
Methods/Steps
Make Filling: Melt the butter in a very large sauté pan. Add all the mushrooms, the wine and soy sauce and season with salt and pepper. Cook over high heat, stirring, for 1 minute. Cover and cook over moderately low heat, stirring a few times, until the mushrooms have released their liquid and are tender, about 8 minutes. Uncover and cook over moderate heat, stirring occasionally, until browned, about 4 minutes longer.
Make the filling continued: In a small sauté pan, heat the olive oil. Add the garlic, lemongrass, chile, shallot and the minced ginger and cook over low heat, stirring occasionally, until the vegetables are golden brown, about 5 minutes. Add the lemon zest, and then stir the mixture into the mushroom mixture.
Roll Egg Rolls: On a work surface, put an egg roll wrapper in front of you with the pointed end pointing towards you. Lightly brush an egg roll wrapper with the beaten egg. Spread 2 Tablespoons of the mushroom mixture on the lower third of the wrapper; starting from the pointed corner, bring the lower edge up and over the filling and roll up, folding in the sides as you go to make a cigar-sized egg roll. Repeat with the remaining wrappers and filling.
Make Dipping Sauce: In a small saucepan, heat the sake, soy sauce, vinegar, sugar, chopped chile, garlic and ginger juice over medium heat. Remove from the heat and allow to cool. Add the sliced green onions. Cover with plastic wrap and set aside.
Fry Egg Rolls: Put a cooling rack over a sheet pan. In a frying pan, heat canola oil to 375°F. Add 4 egg rolls and fry gently until a deep golden brown, about 1 1/2 minutes per side. (Test one because if you don't fry long enough, the wrapper will be raw on the inside). Transfer to a cooling rack to cool and repeat the frying with the remaining egg rolls.
Serving: Cut the rolls in half on the diagonal, wrap them in lettuce leaves, spear with a toothpick (to hold the lettuce in place) and serve with the sake dipping sauce.
Recipe created by Parties That Cook®
Serves/Makes
Makes 24 Eggrolls