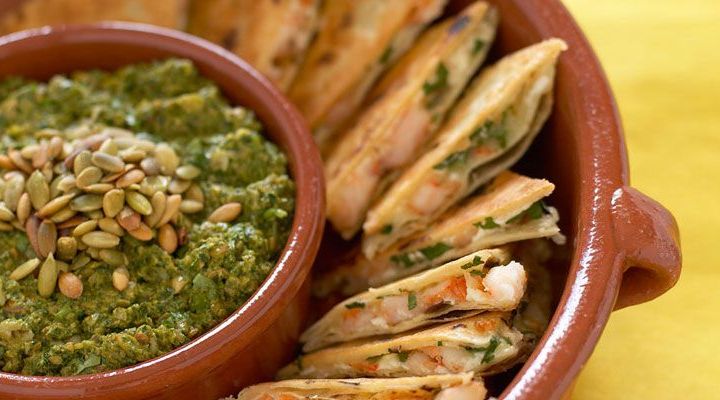 Shrimp Quesadillas with Tomatillo Salsa Recipe
Ingredients
Shrimp Quesadillas:
1 garlic clove, peeled and minced
2 Tablespoons olive oil
1 pound medium shrimp, shelled, deveined and cut in half length-wise
1 Tablespoon lemon juice
1/4 teaspoon kosher salt
1/8 teaspoon black pepper
1/3 cup green pepitas (toasted green pumpkin seeds)
1 1/2 teaspoons fresh marjoram, chopped
2 Tablespoons parsley, chopped
4 ounces of cojita cheese, crumbled or grated (can substitute ricotta salata)
7 ounces of Monterey Jack, grated
3-5 Tablespoons canola oil
10 large flour tortillas
Tomatillo Salsa:
1/2 pound fresh green tomatillos, husked
1 clove garlic, peeled
2 Tablespoons chopped red onions
1/2 serrano chile, seeded and coarsely chopped
Juice of 1/2 lime
1/2 bunch of cilantro, thick stems removed
1/4 teaspoon sugar
2 teaspoons extra-virgin olive oil
3/4 teaspoon kosher salt
Garnish: Cilantro leaves
Methods/Steps
Combine Garlic and Olive Oil: Let the flavor of the garlic permeate the oil for 10 minutes. Prepare the shrimp as specified above. Heat a ridged grill pan or outdoor grill. Brush the grill with canola oil. Toss the shrimp in the garlic olive oil then transfer to the hot grill. Cook through until bright pink, about 2 minutes. Transfer shrimp to a bowl. Season with the lemon juice, salt and pepper; set aside.
Quesadilla Filling/Other: In a bowl, combine the pepitas, marjoram, parsley and the grated/crumbled cheeses. Mix.
Assemble/Cook Quesadillas: Add 1 Tablespoon of canola oil to a non-stick pan over medium heat. Lay a tortilla flat in the pan. Place some cheese and shrimp filling on top and cover with another tortilla. Cook for a few minutes until golden then turn and cook until toasty on the other side. Remove pan from heat.
Tomatillo Salsa: Husk the tomatillos and blanch them in boiling water for 15 seconds (only). Immerse them in a bowl with ice water to cool them. Remove the core from each tomatillo and puree them in a food processor. Add the garlic, chopped red onions, seeded serrano chile, lime juice, stemmed cilantro, sugar, olive oil and salt. Puree until smooth. Transfer to a bowl for serving with a small spoon and garnish with some cilantro.
Additional Tips
To Serve: Cut each quesadilla into 8 triangles. Place on the serving platter, surrounding the salsa.
Recipe created by Parties That Cook®
Serves/Makes
Makes 1 cup of salsa and 30 quesadilla triangles