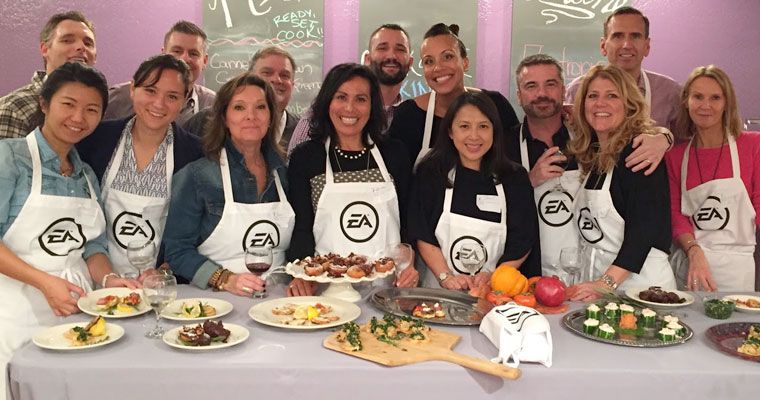 Small Plates
Reception-Style Cooking Party
Looking for a fun and casual team building activity? A 2 1/2 hour event, our Small Plates party is the perfect option for small and large-scale company events. After enjoying our complimentary antipasto platter and beverage of your choice, guests don their aprons and are treated to a lively, interactive cooking demonstration by one of Parties That Cook's top chefs. The group is then divided into teams that will then work together to prepare a spectacular menu of international tapas.
Social Team Cooking Events
With upbeat background music and a festive atmosphere, the Small Plates event is a great mix-and-mingle format, as guests cook together and share their creations with the rest of the group. Team members naturally develop stronger relationships and build trust and confidence in each other throughout the event. Food is the universal language and nothing brings people together better!
Our Small Plates experience is more than hors d'oeuvres on a platter – it's cooking as a social event that takes you around the globe with colleagues and friends.
Pricing & Services
Prices for our Small Plates vary based on guest count, event format and venue rental fees. Prices are based on a minimum of 15 guests, however we can accommodate groups smaller than 15. We create a customized proposal(s) for your group. Cost is all-inclusive of professionally trained staff, ingredients, venue fee, party rentals, travel fee (if applicable), non-alcoholic beverages, and service fee.
Our event sales team stands by ready to give you all the details including a customized proposal for your event. Ask us about event enhancements like our Small Plates Challenge format, optional appetizer and menu upgrades, custom logo aprons, wine education sessions, meeting facilities, specialty rentals and more.
Our proposals are all-inclusive except for wine and beer – there are no hidden fees!