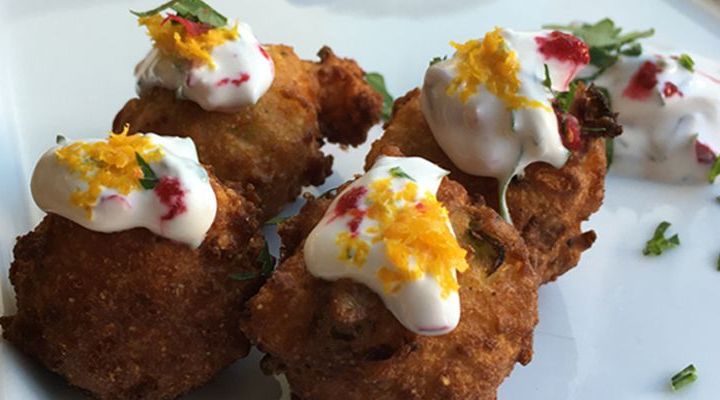 Smoked Trout Beignets with Caraway, Orange and Cranberries Recipe
Ingredients
Beignets:
½ cup all-purpose flour
⅛ cup cornmeal
½ teaspoon baking powder
1 teaspoon kosher salt
⅛ teaspoon ground black pepper
⅓ cup milk
1 large eggs, lightly beaten
3 scallions, finely chopped
½ lemon, zested and juiced
1 teaspoon caraway seeds, toasted and then ground
4 ounces smoked trout, flaked
4 cups canola oil or rice bran oil, for frying
Cranberry and Orange Sauce:
½ cup crème fraiche
1 teaspoon orange zest
1 teaspoon cranberries, grated
½ bunch chives, finely chopped
½ teaspoon kosher salt
Methods/Steps
Make Batter: In a large bowl, whisk the flour with the cornmeal, baking powder, salt and pepper. Stir in the milk and beaten egg. Add the scallion, zest and the lemon juice. Fold in the trout and caraway. Let the batter rest for 5 minutes.
Fry Beignets: Set-up a cooling rack over a sheet pan with paper towel. In a large high sided frying pan, heat 2-3 inches of canola oil to 350°F. Once the oil is hot, drop a heaping teaspoon or tiny scoop of batter into the oil. Fry for about 1 minute per side, or until it is nicely browned and cooked all the way through. Using a spider or slotted spoon, remove the beignet from the oil. Repeat with the remaining batter.
Make the Sauce: In a mixing bowl, whisk together all ingredients. Serve in a small bowl with the beignets.
Recipe created by Parties That Cook®
Serves/Makes
Makes 24